Teatro Jaco announces the second production of its inaugural season: 17 Border Crossings. This internationally acclaimed play arrives at Teatro Jaco Costa Rica directly from Madrid on a world tour.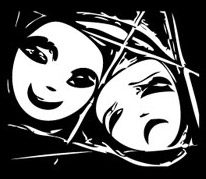 Following the enormously successful "A Christmas Carol" Teatro Jaco announces the second production of its inaugural season: 17 Border Crossings. This internationally acclaimed play arrives at Teatro Jaco directly from Madrid on a world tour. Border Crossings will be performed January 19 through January 29th, Thursday through Sunday at 7:30 pm at Teatro Jaco, located in Oceans Center Jaco on Ave. Pastor Diaz in Jaco Beach. Sunday evening shows will be performed in Spanish. Ticket prices are $35.00 for Main Floor seating, $20.00 Balcony, Sunday's Spanish language performances are specially priced at $17.50.
A seasoned world traveler and wildly inventive artist, Thaddeus Phillips embarks on new territory by stripping the stage bare to create a deceptively simple stage voyage that takes audiences to the frontiers of Tunisia, Bosnia, Cuba, Brazil, Colombia, Bali, Czech Republic, Israel, Jordan, Serbia, Slovenia and Mexico. At once intelligent and hilarious, 17 Border Crossings uses physical theatricality as well as sarcasm and political critique to explore the demarcation lines created by world globalization.
Collected over 15 years of international travel, "17 Border Crossings" weaves together real adventures of international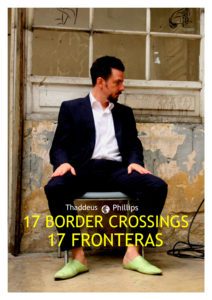 border crossings into a dramatic examination of imaginary lines, arbitrary passports and curious customs. It explores a world opened up by the fall of the Berlin Wall on 11/9/89, sealed off by the events of 9/11/01, and reimagined after the protest of Mohamed Bouazizi, the Tunisian fruit vendor who on December 17, 2010, said 'enough is enough' and thus started the revolutions that became known as the 'Arab Spring.
Thaddeus Phillips, Director, Writer and Actor is the Artistic Director of Lucidity Suitcase International, a theater team based in Philadelphia, USA and Bogota, Colombia. Lucidity Suitcase develops original theater works using creative structures, objects, found and original texts and extensive travel.
The company tours extensively to theaters across the world. Phillips trained at DAMU in Prague and with Encho Avramov and the Czech director Josef Krofta. His work has been seen Off-Brodway at the Barrow Street Theatre and at New York Theatre Workshop, and in Seattle, Albuquerque, New Haven, Chicago, Denver, Philadelphia, Tampa and internationally in Spain, México, Holland, Czech Republic, Italy, Slovenia, Ireland, England, Scotland and Serbia.
Special arrangements and discounts are available for groups of 10 or more including post show discussions with the show's creator, Thaddeus Phillips. Discounted " Stay and Play in Jaco Beach " vacation packages are available with luxury condos and hotels in Jaco. Visit our website http://www.oceanscenterjaco.com .
About Teatro Jaco
Teatro Jaco was founded by Darren Lee Cole, co-owner of the SoHo Playhouse in NYC and producer of hundreds of theatrical productions worldwide. This production is a joint partnership with Teatro Jaco and Patrick Hundley of DayStar Properties whose mission is to "Bring the world of entertainment to Playa Jaco" while inspiring local talent through funding arts programming and educational workshops for the Costa Rica Central Pacific region.