In 2000, when Dr. Robert Page and his sons, Curtis and Robert R. Page, started MedToGo International they wanted to write a book. Now, they help people travel to places such as Mexico and Costa Rica to get quality medical services for a fraction of what they would pay in the United States.
"The objective of this company was specifically to write books for travelers," said Robert R. Page, MedToGo's operations officer. "We made a book called 'The Mexico Health and Safety Travel Guide.' It's a 600-page almanac of the best healthcare in Mexico. The objective was to just start off with a few cities, but we totally expanded this thing and covered around 50 cities. We broke it up into regions, we visited tons of hospitals. We visited tons of doctors and by the time we realized it was way too big of a project, we were already so deep into it that we just had to see it through."
In 2007, MedToGo International, based in Tempe, published its third book, Page said. That was around the same time Dr. Page, who did his medical training at the Autonomous University of Guadalajara, and his sons, who studied at Harvard Medical and Georgetown University respectively, started facilitating trips to Mexico for friends who wanted to avoid exorbitant pricing and cantankerous insurance providers in the U.S.
Their first customer, a friend who needed an immediate hysterectomy, went to Hermosillo, Sonora, and paid $5,000 for a surgery that would have cost her $35,000 in Arizona, Page said. Another family friend, and customer number two, found out three days before he was scheduled for a double knee replacement that his insurance carrier had declined to pay for the surgery. He went with the Pages to a hospital in Mexico and paid $13,000 rather than the $60,000 he would have had to pay out of his own pocket in the U.S, said Page.
"The guy was back on the golf course with my dad in a few months," said Page. "And he was doing yoga three or four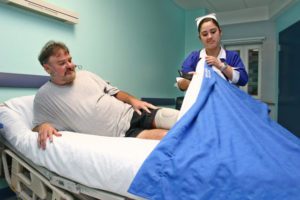 months after that. He came to us and was our first impetus. We really dug into this and we realized it wasn't that difficult given all the contacts we already had and our relationships."
Page said he, his father and brother started making trips to Mexico to inspect hospitals and operating rooms and to start to build relationships with medical specialists. Now, Page said, they facilitate about 15 to 20 procedures a month and add about two new customers a month as well.
"It's slow growth," said Page. "But it's manageable and at the same time we're getting great patients, getting better doctors and our pricing gets better."
The group, which offers special "Mommy Makeover" plastic surgery packages ($4,300 for a tummy tuck, three areas of liposuction and breast augmentation) as well as orthopedic, dental, cardiovascular and gynecological surgeries and several obesity-related surgeries, decided to broaden their horizons when business took a hit after Mexico's 2009 Swine Flu epidemic.
Costa Rica was an obvious choice with an already established tradition of medical tourism. In 2010, some 36,000 tourists visited Costa Rica to receive medical treatments, according to data from the Council for International Promotion of Costa Rican Medicine. Those tourists spent around $295 million for their treatments there.
Page said MedToGo International has been working in Costa Rica for about four months. He plans to move to the capital, San José, next year.
MedToGo patients, Page says there's been about 400 so far and counting, start out by coming to the company with a diagnosis they've already received from a doctor in the U.S. or Canada to discuss their options. Through a series of consultations with the company, the patient receives information about different doctors, treatments and pricing. MedToGo helps book flights, hotels, whatever medical treatments are needed and any post-surgery care or rehabilitation services that might be necessary. An English-speaking medical liason, usually a Canadian or U.S. expat, meets the patient at the airport in Mexico or Costa Rica and helps them get around during their stay.
Page said he'd prefer not to have to go to another country to get medical treatment, but with the state of U.S. health care and health care policies right now, a service like MedToGo International makes sense.
"We felt like we had the perfect team to put a business like this together," Page said. "And with the mess that health care has made of itself with Republicans and Democrats battling it out, and it feels like they have no desire to really help Americans now, it just makes sense."
By Clayton R. Norman Inside Tuscon Business