For all of those that like yoga, art. live music and to visits art galleries, they will be interested in this opportunity. the FESTIVAL YOGARTE program combines an art tour, yoga class and meditation session  in the  Costa Rican Art Museum, located in La Sabana, San José.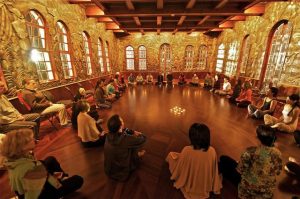 The schedule runs from 2:30 to 6:30 p.m., starting with a guided tour to discover the architectural history of the building, formerly San José's international airport. The tour will cover the works of many distinguished Costa Rican and international artists, including the sculpture garden with its contemporary and pre-Columbian pieces. At 4:30pm participants will enjoy a yoga session with the music of Carlos Tapao Vargas, a recognized percussion musician that has played with important bands in Costa Rica like Editus and Malpais.
TIP: Get our latest content by joining our newsletter. Don't miss out on news that matter in Costa Rica. Click here.
The activity will conclude with an meditation class in the Salon Dorado, located inside the museum.
The specialists  Nango Murray y Vanessa Cavallini will lead the yoga and meditation classes.
Murray has been professor, choreographer, ballet classic dancer and modern dancer for 25 years. Cavallini is a psychologist, reiki teacher, and holistic therapist with more than ten years of experience that she had shared in Italy, Spain and Honduras.
Yogarte will be the last Saturday of each month, and is a free event for participants. Instead of an entrance fee, the participants are asked to bring supplies and personal items to help the elderly which will be given to the needy elderly citizens in the San Jose area this is a great opportunity to help people as well as enjoy a day of relaxation, yoga and meditation, accompanied with live music in an environment full of art.