Ask most North American visitors to Costa Rica what a "soda" is, and you are liable to get a response concerning some kind of carbonated beverage. To those from the Southern U.S., the term "coke" applies to all carbonated drinks; in New England, they are called "tonics" (regardless of what flavor or brand) while on both East and West Coasts, "soda" is the term used. Mid-westerners call it "pop" or "soda pop" and some places just use "soft drink". Yet, in the land of Pura Vida, a "soda" is much more than a thirst quencher.
Sodas are small, usually family-owned and operated, restaurants that can be found on roadsides, in major centers like San Jose, and everyplace in between. The term "soda" is generally translated as "diner". To Ticos and non-Ticos alike, these ubiquitous eateries provide both satisfying and inexpensive meals and drinks. Additionally they allow patrons to share, if only for a meal, a true sample of Costa Rican life and hospitality in a way that larger restaurants and chains never can hope to equal.
TIP: Get updates on upcoming Costa Rican Retreats & Events by joining our newsletter. Don't miss out on what's happening around you! Click here.
You probably won't find any menus at most sodas since the selections are fairly standard from one soda to the next. Comida tipica (native Costa Rican cuisine)iis the centerpiece and allure of their selections. Casados, fruit drinks, and, yes, sodas (the carbonated variety) are the main staples that are offered.
The casado is usually a fixed platter with a chosen meat, plantains or vegetables, and the ever-present beans and rice. The choice of meats can be large or small-depending on the owners of the soda, although you can usually find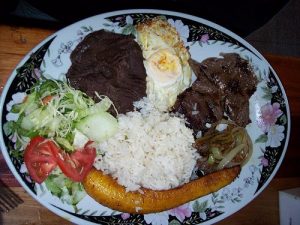 variations on the following:
Carne en salsa-beef in a thick gravy, much like a pot roast type of dish
Pollo en salsa-a piece of chicken in a lighter gravy or sauce
Chuleta-a pork chop, maybe in sauce, maybe not
Pescado-fried fish
Pollo frito-fried chicken
The fruits drinks can be passion fruit, carrot, blackberry, oatmeal, mango, pineapple and more. Obviously, what is and isn't available is dependent on seasonal availability, supply, and the preferences of the soda's owners.
Again, as with any independent business, each soda has it's own "special" that can vary from the Central Valley to Domincal and sometimes, even from day to day. You may find sodas that offer sandwiches and buffets, others might even have merchandise like a small convenience store-think in terms of a Tico version of a 7-11!! At night, some of these roadside locations even become clubs or discos (yes, disco lives in the land of Pura Vida!!).
While sodas are certainly an institution today throughout Costa Rica, many Ticos and non-Ticos alike are probably unaware that the concept of the "soda" actually began roughly ninety years ago. To many long time residents of San Jose, the "original" soda is El Chelles. Located on the central pedestrian walkway close to the Teatro Nacional., this culinary institution-at least to those who have been loyal customers for years- continues to sell the same tasty food, sandwiches, casados, breakfasts and beverages to one and all just as it has for nine decades. Whether you're heading to work, or staggering in from a night of fun and frolic, El Chelles remains open around the clock to provide food, drink, and a place to people watch.
So the next time you pass one of these little shops, take some time to stop to and experience a tradition that has become an essential part of daily life in the land of Pura Vida.