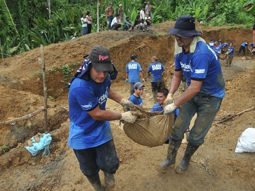 Adelia Reyes walks for two hours three times a week with a bag full of clothes to wash for her and her six children. This indigenous Cabecar community near Gavilán Canta, Talamanca, Limón, must also cope with constant illness including diarrhea, vomiting, fever and parasites.
"It is a lot of work to walk and the clothing is very heavy when wet, but it is the only way of doing things here, the water does not come to my house. Sometimes it is also difficult because I have to carry buckets of water and I'm old" she said.
TIP: Get our latest content by joining our newsletter. Don't miss out on news that matter in Costa Rica. Click here.
"Many times one of my daughters helps, but now she is in the house because she has a fever. Some people say that is because we have no clean drinking water," she added.
The same situation can be claimed for the 565 people living in that community.
However, these conditions could change. More than 200 volunteers from companies such as Florida Bebidas, Amanco and the Carthage Rotary Club working on the design and construction of the first rural water supply for this community of the southern Caribbean, which will bring water to the homes of all residents for at least 50 years.
Since October last year, workers in these companies have been working shoulder to shoulder with people from the community to make this dream a reality. Work is already advanced by 85% and is expected to be ready later this month.
"It's a great satisfaction, coming to help people you do not know, but need something that is common to us all. I feel fantastic to help these people have water," said Paul Richardson, a worker at the plant on Florida Limon Beverage.
For the native people, this help not only represents access to water, but also the opportunity to learn new skills.
"We feel very good, not only are we helping our community to have water in their homes, we are learning things that we can use in the future. We will also learn to give maintenance to the pipeline to give us more time," said Enrique Reyes, treasurer of the committee of the aqueduct of Gavilán Canta.
On May 6th, the plan is to install tanks in the pipeline to complete the construction.
Thus culminated a dream that began in 2008 with an agreement between the Rotary Club of Carthage and the community.