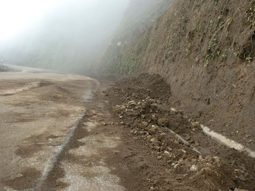 by R. AGUILAR
The road passing through the Braulio Carrillo will be reopened on Monday according to traffic police.
TIP: Get our latest content by joining our newsletter. Don't miss out on news that matter in Costa Rica. Click here.
A huge landslide fell on the road early Tuesday morning and it was not until yesterday that they managed to remove debris from the roadway.
According to official estimates, more than 250 truckloads of material were hauled away, including rocks, soil, and large logs.
The Transit Communications Officer, Andres Bermudez, recalled that the avalanche fell on the area known as Ventanas, which is located at kilometer 23 of the roadway.
It is a mountainous area where there are frequent landslides, Bermudez said.
Workers of the Ministry of Public Works and Transport (MOPT) were sent Tuesday morning to the site, but were forced to suspend their work due to bad weather.
Between Friday and Saturday, taking advantage of the improved weather, they managed to clear the line, but the passage of vehicles was not authorized.
"The wall is badly damaged, it is a very vertical wall material and is still falling," commented Helbo Lopez, a Traffic Officer working in the nearby Zurquí tunnel.
He said that the sporadic rains and other conditions make it still not safe to enable the passage of traffic.
"Here it's best to avoid problems, prevention must be a priority in this case," he said.
Lee said officials from the Ministry of Transport and Works (MOPT) should inspect the top of the hill to determine the next steps.