The Costa Rican basketball player Ian Martínez Carrillo has already aroused the interest of several universities in the United States, in order to join their ranks as a student and player. Some of them with enough prestige to position players to the NBA, the highest basketball competition in the US and the most followed in the world.
At just 17 years old, Martínez has made a career in the American high school where he was in 2 California colleges: Cantwell Sacred Heart of Mary High School and Serra High School, where he currently plays. In both, you are leaving convincing performance and good impressions to your coaches. So much so, that he was already nominated to enter the 2020 recruitment class as a 4-star prospect.
Although he has enough mental strength to avoid that goes to his head, and while it is true that he is athletic and quick, he says he must work on his shots and the physical part, according to an interview with the US website 247sports.com. "In some games, I made a lot of shots and in others with a poor percentage of shots, I try to make it reasonable for me. So I must work on being more consistent with my shot and on my body, to be a little bigger and stronger. Since I arrived in the United States 2 or 3 years ago, I began to develop a little more; he was athletic but not that special".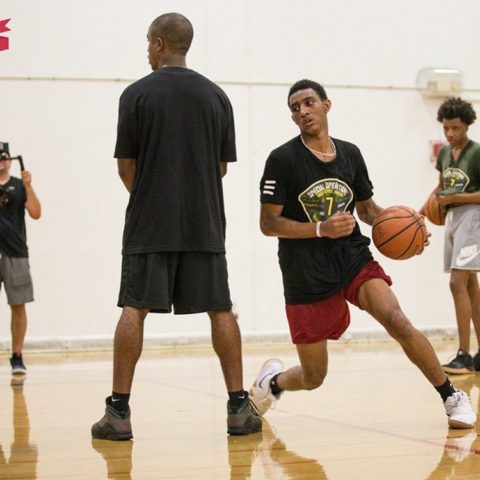 Ian was comfortable with what he found in American basketball and considered that there he is learning to play real basketball and that all he needs now is someone else, apart from his family, capable of believing in him and his chances of getting very far as a basketball player, conditions that in Costa Rica never found.
His arrival in US territory was facilitated, since before him was his brother Avery, also a university basketball player, who was already in El Paso, Texas, and today plays at the California State University Northridge headquarters.
Finally, although Ian has not yet chosen a university among the bidders, he did begin to visit them, and until now he showed a taste for Utah, one of them. "They are number 2 in developing players, sending them to the NBA, and I like that. I went to see a practice of them, and I just loved how they worked on their kids. Also, I think it is a really good place with great facilities. I told them about developing my body, I talked to the physical trainer, and what I like about him is that he thinks I can go there and develop everything I need to enter the NBA", he concluded.
Interestingly, the 2 brothers are children and nephews of 2 other Costa Rican ex-basketball players who also left their mark on the national and international level: Henry and Kay, respectively, who usually give their full support.
NBA is still not an option
Although UNIVERSIDAD tried to contact Ian directly, at the end of the edition there was no success. Yes, he managed to talk to his father, Henry, who said he was proud of the interest of several American universities in the youngest of his offspring, although with some discomfort at the information that put his children near the NBA, and assured that it was not it is a short-term option.
"Ian and Avery are only going to play at the University. I do not know why many journalists are with the information that they are going to play in the NBA, if they are not going to go to the NBA yet, they would only be in university leagues. It is not impossible (to play in the NBA someday), but you have to go step by step; we are not skipping the process".
Anyway, the American Basketball League (NCAA) is also usually a closed showcase for Costa Ricans, since only five have managed to get into these instances. Among them, Henry and Kay in their beginnings as players, in addition to Avery now. So Ian could become just the 6th national to do so.
When asked about how to deal with Ian the offers of the universities and what criteria to take into account to decide which university to choose, Henry said that for now there is no time to make this determination, but that, as soon as the time comes, that corresponds exclusively to him, to Ian. Despite this, they will try to help you and guide you in this process. "We are going to give him the support we have always given him during all these years; the decision is going to take him (Ian), we are a support and a guide. Like every parent, one gives the recommendation to their children, based on what the university has and how it can benefit them to be a better person, a better athlete, among other things".
Another factor to consider in the balance at the time of the recommendation lies in the experience of Henry and Kay both in the NCAA and in national and international basketball. "We were international players, we played in university and professional league in other countries, and we already know how everything is handled".
However, he emphasized that for them the priority must be the academic rather than the sporting on because having success in the studies one can opt for sports scholarships.