Every day, foreigners and citizens of Costa Rica enjoy diverse and unique events full of art, gastronomy, and culture. There is one that distinctively differentiates itself from all others. It is the "Welcome to Migratory Birds" Festival, which took place this year in "Santa Elena de General, Biological Corridor Alexander Sckuth", on December 13th-16th.
The Association of Active Women (AMACOBAS), registered in 2014, is in charge of this incredible Festival, Graciela María Badilla Monje, Vice President of AMACOBAS, commented exclusively to The Costa Rica News that for the 2nd straight year the Festival took place, and this year they had new purposes beyond the ecological approach, and that is recovering their traditions.

For Graciela, in the towns of Costa Rica, it is necessary to rescue our ancestral traditions. That is why, in this Festival 2018, they decided to promote a conversation activity where people (older adults) participated. It was made mainly in the Biological Corridor that encompasses the communities: Santa Elena, Santa Teresa, San Francisco, San Ignacio, and Quizarra, among others. "We wanted to bring the elderly people from other places, because we kept looking for them to be the protagonists of this history, including the typical dishes and rural community tourism", she said.
Through the "Welcome to Migratory Birds" Festival, the organizers from AMACOBAS will also rescue traditional games "that, nowadays, with the use of smartphones, boys and girls do not know them. Both parents and children will enjoy spinning tops, stickers, and many others".
In the Festival, visitors could see booths full of local entrepreneurship, many of them with artisanal (fermented) wine, achiotes, various types of bread, corn tamale (made within a casserole over a wood fire), etc. Those who attended also consumed dishes, being totally different from those found in the city.
Organic projects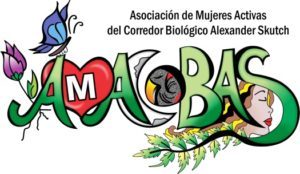 Graciela María said that in the Biological Corridor there are many diversified farms that produce yucca and sweet potato that were on sale at the Festival. In this regard, AMACOBAS has organic projects where approximately 15 greenhouses are suitable for the production of healthy agricultural products. They manufacture fertilizers for the variety of plants, fumigation material for orchards -sulfocalcic, lactobacillus- and mountain micro-organisms, "all clearly organic; we do not yet have the certification, but we can say that it is in process".
Through the greenhouse project, these active women want to establish a connection with the environment. So they are cultivating different types of plants: forest and medicinal plants, to protect the basins and the Biological Corridor. "The medicinal plants are used to protect the mariolas (bees), which are pollinators and that have seen their population reduced drastically by fumigations". With those plants they want to recover, the species that are in danger of extinction will have a chance to survive. In fact, forest trees are part of the project, mainly to reforest the basins, and in that way, they give native tree species a new opportunity to repopulate.
The Festival was an incredible show for everyone. Culture did not stop being a part of it; people were even taught how the Marimba is elaborated and played as a traditional instrument. Additionally, different courses were offered for visitors, like traditional food preparation. Children could paint stones and, if we talk about photographs, there was a picture contest with an accredited qualifying jury.
This Festival gains momentum year after year, thanks to the perseverance of all the women involved with AMACOBAS.