There is no doubt that Costa Rica is one of the best destinations. The land of the "ticos" (that is how Costa Ricans affectionately call themselves) has been ranked as one the world's top places to travel since the mid-1980s.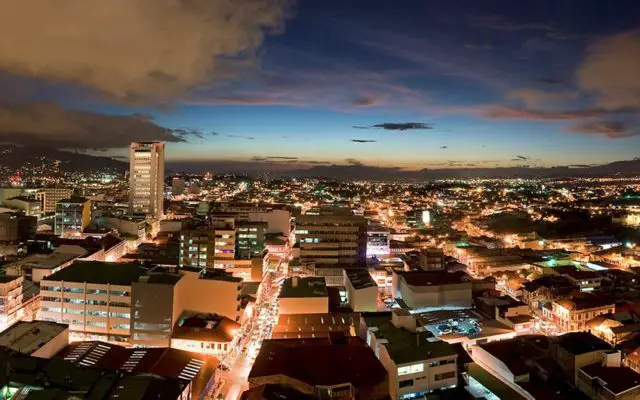 However, before traveling to Costa Rica, you should keep 4 things in mind when entering this Central American country:
No visa for US citizens is required. You just have to show your valid passport to the migration officers.
Have your vaccination certificate updated. It might be required by local sanitary authorities. Diseases such as malaria, yellow fever, or dengue may be transmitted by infected mosquitoes. Wear long-sleeved shirts and long pants to cover up arms and legs, use insect repellents or electric-hitting racquets, and sleep under mosquito-proof nets.
Although Costa Rica strongly promotes bilingual education, especially English, try speaking some Spanish. It will be appreciated by most locals. At least, learn basic words and expressions to self-introduce and thank.
Be aware of the colón (₡), Costa Rica's national currency, conversion rate. You will surely not want to receive an unfair exchange of your dollars (US$).
With regard to the seasons of the year, there are only 2: a dry and a rainy season. Nevertheless, the most favorable months to come are November-April (best weather), and December-January (green and dry season).
Although there are many places to go, the most recommended are: volcanoes (Rincón de La Vieja, Tenorio, Arenal, Poás, Irazú),  national parks (Corcovado, Chirripó, Manuel Antonio, Santa Rosa, Isla de Cocos, Tortuguero, Guanacaste, Marino Ballena), beaches (Tamarindo, Naranjo, Hermosa, Manzanillo, Bahía Drake, Grande, Uvita), wildlife reserves (Vida Silvestre Gandoca-Manzanillo, Barra del Colorado, Curú, Ostional), bio-reserves (Isla del Caño, Monteverde, Cabo Blanco, Lago Coter), botanical gardens (Casa Orquídeas, Wilson), and hotsprings (La Fortuna de San Carlos, Miravalles). Among the most popular activities to do, we can mention climbing, rafting, hiking, swimming, surfing, snorkeling, diving, jogging, and cycling.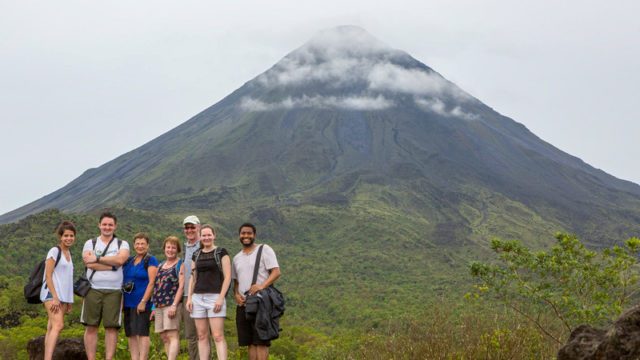 When taking a cab, try to take one which is required to have a taxi-meter. This way you will pay a reasonable service fare.
In Costa Rica, tipping has some unwritten rules for foreign tourists and visitors. For example, you must ask for your bill at restaurants, since they are likely to include a service charge. Normally, you do not tip a restaurant's wait staff or bartenders. But, in turn, you do tip a tour guide (5,000 ₡ per day) and your hotel's porters or bellboys (500 ₡ per bag).
If you decide to take your pet, you must take into account the permits requested by the country to receive your pet, to avoid last-minute setbacks. In Costa Rica, for example, they apply for a passport and/or an international health permit for the transit of domestic animals. It is important that your pet has all updated vaccines, as well as a report signed by its veterinarian.
On the other hand, Costa Rican food is simply delicious. Some dishes are based on rice and black beans (when mixed together for breakfast they are called "Gallo Pinto"), served along with bread, chicken or meat, vegetables, salads, and fruits. Other choices are: "Casado", "Vigorón", "Pozole" corn soup, "Chifrijo", fried plantains, tamales, and "Arroz con Leche" (sweeten milked-rice) for dessert.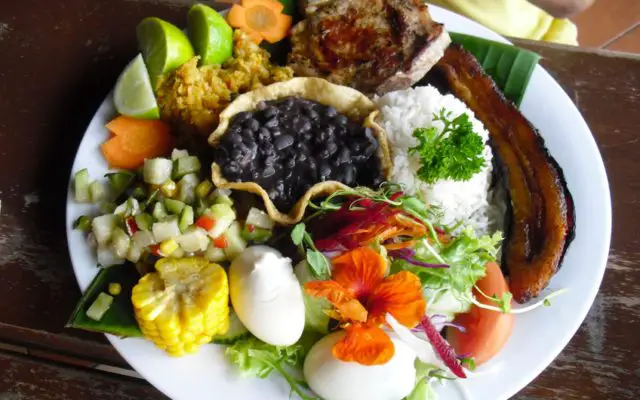 Culturally speaking, you should consider the following:
Men shake hands when meeting. Women, or men meeting women, may give an air kiss on the left cheek.
Punctuality is pretty relaxed in Costa Rica. It is OK to arrive up to 30 minutes late to meet someone. Furthermore, the Spanish word for now, "Ahora", actually means later or maybe tomorrow. Do not get surprised because of this!
The Spanish words and expressions "hola", "adiós", "por favor", "sí", "no", "gracias", "de nada", "discúlpeme", "¿habla inglés?", and "¿puede ayudarme?" will be very useful to learn.
Haggling is expected in informal market stalls, but not in finer, that is, more expensive shops.

Pura Vida motto

The expression "¡Pura Vida!" is commonly heard in Costa Rica and is often used as a greeting instead of a "hello" or a "goodbye". So, you know, this unique phrase is used by everyone in the country to fan the energies and start a new day with a lot of enthusiasm.

Be careful when blowing your nose in public! That is frowned upon in Costa Rica. In fact, it is considered in very bad taste and worthy of a rude person. So think twice if you are in Costa Rica and it causes you to blow your nose.
After knowing these tips… Do you encourage yourself to come and enjoy the Costa Rican style? If you do so, then "Pura Vida" is what you will get!