The Celeste River is located at the Tenorio Volcano National Park in the Guanacaste Volcanic Cordillera northwest of Costa Rica. It is considered one of the most magical places in the country, thanks to the amazing turquoise blue color that its waters have.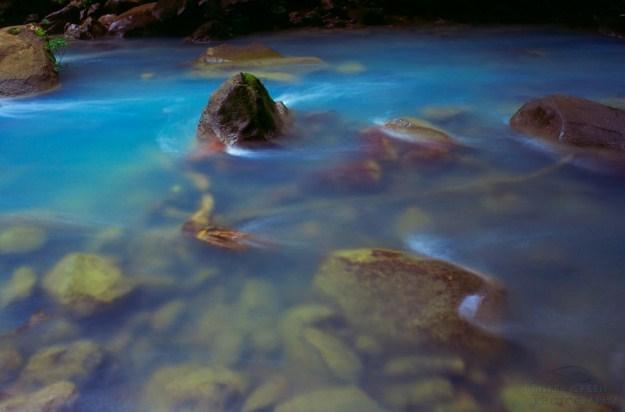 The coloring of its waters is due to the chemical reactions of 2 rivers that cross each other, the Buena Vista and Quebrada Agria, thus which certain types of minerals are combined. That is why, together with the reflection of sunlight, they create an impressive blue color in the water and hence the name of the River.
The Celeste River area is ideal for hiking because the main road to visit it is a 1.5-kilometer walk from the Tenorio Volcano National Park. During the trek to the Celeste river, you will enjoy an unparalleled view of the forest, flora, and wildlife that reigns in Costa Rica's natural landscape. We recommend not forgetting to take along your camera to the amazing wildlife, among which the diverse colorful bird species stand out.
Also, the Río Celeste waterfalls dropping into a deep blue lagoon surrounded by lush green vegetation from a height of 90 meters. The 'Pozo Azul' (blue lagoon) is a beautiful blue natural pool where the greatest turquoise color is concentrated.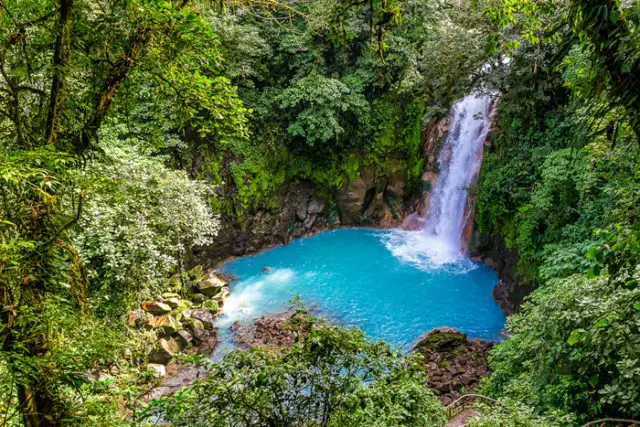 Along the river you will arrive at an area called the 'borbollones' (bubbling), here you will sense the strong smell of sulfur, coming from the volcanic mineral water that emerge along the river. It is very important to take into account that it is prohibited to go into these hot springs or any other part of the river waters within the national park.
Important recommendations when visiting the Celeste River
A maximum of 1,000 visitors is allowed in the park per day. And only up to 500 people on the trails at the same time.
In the rainy season, it can get very muddy, so it is recommended to wear hiking boots, a raincoat and appropriate clothing in this season. And in the dry season, you should wear fresh clothes. We recommend you bring along a change of clothes because there is a good chance that you get dirty due to the mud since it is a permanent humid area.
The trail from Bijagua to the Tenorio Volcano National Park can be traveled in around 20 minutes, since it was recently paved. Although when there is mud, it will obviously take a little longer.
Remember to bring sunscreen and insect repellent.
Carry enough drinking water. Remember that you will be walking a lot and will have to keep your body well-hydrated.