A few days ago, the World Class competition was held in Costa Rica, which is carried out by the Diaego company, in which the young José Pablo Pacheco from the Selvatica bar was the winner, that is, the best bartender in the country. It is worth noting that Pacheco will represent Costa Rica in Australia, in what will be the global final of the competition.
The competition, held in the Central American country, featured judges such as Arturo Savage, Brand Ambassador of the Diageo luxury whiskey portfolio, and Rafael Reyes, Regional World Class Brand Ambassador for the Caribbean and Central America at Diageo.
The World-Class consisted of three challenges and a final stage in which the participants had to prepare 6 classic cocktails, with 6 different types of distillates from the Diageo portfolio. The estimated time for the bartenders to prepare the cocktails was six minutes, all of them had to maintain the balance and aesthetics of each drink to be qualified in execution, technique, speed of service, and knowledge to replicate the cocktail.
An educational platform
World Class Sponsored by Diageo, is an educational platform leading to global bartending competition. All competition challenges are inspired by the latest industry trends and supported by Diageo Bar Academy training resources, providing competitors with the tools and knowledge to prepare for the competition while fostering the development of their profession.
Now, our team at The Costa Rica News spoke exclusively with the best bartender José Pacheco, who told us about his experience and his aspirations for the future
We are talking about a young man from Coronado who grew up in the Tico mountains and loved going out to play "threshing" among the trees, from a very young age he had his first machete.
He told us that his dream was always to be a firefighter or a clown and when he grew up he was passionate about coffee and barist; "My dream was to work in the best coffee shop."
Pacheco is an Administrator with an emphasis on hotels and restaurants, graduating from the Universidad Latina, has an MBA in Marketing from the Fidelitas University, and studied cocktails at the European Bartender School in Barcelona.
Found his passion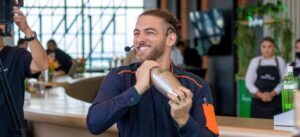 José worked as an entertainer and master of ceremonies at shows in the Westin hotel in Playa Conchal, also in management assistance at a supermarket chain, and later as a bartender, something he loves to be.
Currently, he works in Selvatica, Costa Rica, and in his opinion, there are still many projects that he would like to work with in the medium term, "it is a very nice company and they care about the well-being and development of the collaborators, probably in the long term I would love to have a cafeteria".
About his work as a Bartender, Pacheco thought it was going to be a temporary job for learning. "At first, I was working only Friday and Saturday while continuing with a day job, when I realized how happy I was on the weekends I quit my other job and dedicated myself to being a bartender as a professional career".
He has passed through Mercado La California where he learned basic cocktail techniques. Nelson Martínez, ambassador of World Class Costa Rica gave him the first classes and inspired him to participate in his first competition.
Later, he worked at Casa Félix, where he learned creative cocktails with his friend, bartender Roberto DaCosta, and then moved on to Selvatica, where he continues to learn from his team every day.
On the competition and his goal for Australia
This year, the focus of the competition was on sustainable cocktails, working with suppliers and making the most of ingredients, also a challenge to tell a story and connect with people, and finally, a classic cocktail challenge. The competition featured 4 judges, each with a different specialty. José Pablo's goal is to get the best version of himself, enjoy to the fullest and leave his country with high honors.
What he likes most about Costa Rica
"What I like most about my country is the people, that culture of service and way of communicating is what I love the most, more than anything in this career where attention and good service are basic pillars," he said.
Finally, José Pacheco, expressed a few words for our readers at TCRN, "the most important thing in life is to have a goal, in my case, my goal is to be happy, and it has taken me down paths that are super different from each other and I don't know where it will take me now. We can all be happy, the important thing is to always surround yourself with positive people who bring out the best in ourselves".