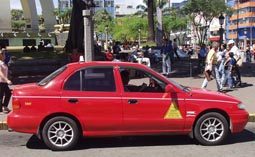 By TCRN Staff
TIP: Get our latest content by joining our newsletter. Don't miss out on news that matter in Costa Rica. Click here.
Taxi fares will increase by 24% on average, according to a recent release by the Regulating Authority of Public Services (Aresep).
The basic rate is currently set to increase from ¢455 to ¢510. Meanwhile, each additional kilometer will increase from ¢415 to ¢510. This translates, for example, in an additional ¢415 for a four kilometer ride, from ¢1700 to ¢2040.
These new rates are already in affect and the Aresep reported that the resolution was sent to the National Press for public release.
As for the timeout rate, which applies when the taxi gets stuck in traffic and does not go over 10 kph, it too will increase from ¢2590 to ¢2800 and the delay time of ¢4150 to ¢5100 per hour.
However, for vehicles that provide service in rural areas, rates vary per kilometer, wait and delay.
For these cases, additional mileage will increase from ¢455 to ¢610. The waiting time will increase from ¢2740 to ¢3280 and the delay of ¢4550 to ¢6,700. In taxis adapted for people with disabilities the extra mileage changes from ¢410 to ¢515.
Also, the Aresep would like to remind people that taxi drivers MUST use the meter for all transactions, it's the law.