Featured Columnist – Health
Ileana Alfaro
Certified Dermatologist
Overweight is defined as a body-mass index (BMI, the weight in kilograms divided by the square of the height in meters) at the 85th to less than the 95th percentile for age. Obesity is defined as a BMI at or above the 95th percentile.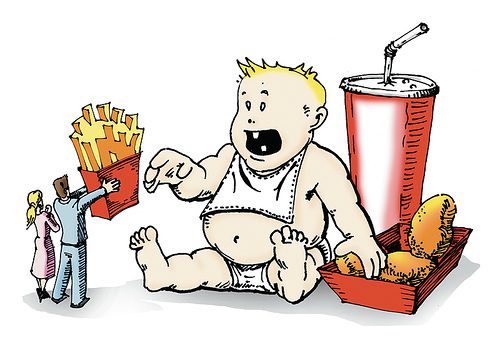 Childhood overweight and obesity is a growing problem worldwide, one can even speak of pandemia. According to the World Health Organization (WHO), one thousand million adults are overweight. Almost one third of U.S. children over 2 years of age are already obese, according to the 2007–2008 National Health and Nutrition Examination. Numbers in Costa Rica are no different, since 40% of our children are also affected according to Ministerio de Salud.
Overweight and obesity has significant lifelong consequences on the health of children.
Childhood obesity is associated with early-onset Type II diabetes mellitus, hypertension, metabolic syndrome, and sleep apnea. It is also associated with cognitive or intellectual impairment and social exclusion as part of a vicious cycle including school avoidance. Childhood obesity tracks strongly into adulthood since obesity beyond 12 years of age develops into adult obesity in greater than 80% of cases. Obese women have greater risks for polycystic ovary syndrome, subfertility, and a number of pregnancy complications including gestational diabetes, preeclampsia, and operative delivery, and their fetuses are at increased risk for spontaneous abortion, stillbirth, and congenital malformations. Long term follow-up studies have found greater risk of mortality and morbidity from coronary heart disease and atherosclerosis among men and women who were overweight in adolescence according to a study by Dr. Must published in the New England Journal of Medicine.
The Dutch famine study found that exposure to maternal malnutrition in early, but not late, gestation was associated with increased odds of childhood obesity. Prenatal exposure to maternal smoking showed significantly increased odds of childhood overweight and obesity. The biological mechanisms mediating these relationships are unknown but may be partially related to programming of insulin, leptin, and glucocorticoid resistance in utero. So, all this data supports prenatal programming of childhood overweight and obesity and one can conclude that the prenatal period is a window of opportunity for obesity prevention.
In the fall of 2004, the Institute of Medicine (IOM) released a report that called for action at many levels to deal with the problem of childhood obesity, but in regards with any plan for reducing this disease, success will require action by families, by individuals, by schools, by communities, and by healthcare providers. Action will be needed by food purveyors, manufacturers, and restaurants, and even by city designers so that people can get the exercise they need.
Despite all the hype about certain diets and special ways of losing weight, the basic message of the IOM report is that body weight results from a net balance of calorie intake and calorie expenditure. That's a principle of physics that you can't get around.
Collectively, we need to reverse the trends that have led us to less physical activity and more caloric consumption. We can do it by working together at many levels — eating smarter and being more active.
Studies have shown that early interventions can potentially prevent the development of obesity in school-age children, along with associated health conditions.
U.S. First Lady Michelle Obama unveiled her "Let's Move" campaign against childhood obesity on February 9, 2010. The program's main antiobesity strategies are empowering parents and consumers by revamping the nutritional labeling of products by the U.S. Department of Agriculture (USDA), improving the nutritional standards of the National School Lunch Program, increasing children's opportunities for physical activity, and improving access to high-quality foods in all U.S. communities.
This innovative multifactorial approach has potential for success in altering the course of the childhood obesity crisis, since this campaign may well help to improve the health of Americans through its multilevel and comprehensive approach.
But pregnant women, infants, and pre–school-age children could benefit from being more explicitly incorporated into the campaign, because young children age 6 are already obese. Including prevention efforts for these groups will have the longest-term effect on the obesity epidemic .