By Zoe Everitt, TheCostaRicaNews.com.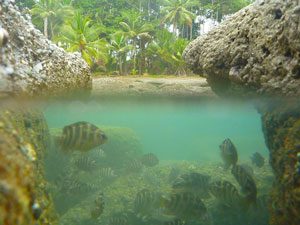 With climate change in mind, Frontier, a non-governmental conservation organisation based in London, began working with local NGO Friends of the Osa (FoO) in Costa Rica in July 2009. The aim of the collaboration is to discover the effects of climate change on the biodiversity of the Osa Peninsula. Alongside this, with deforestation rates being as high as 4.2% at the beginning of the twentieth century, Frontier has initiated a reforestation scheme with the aim of bolstering native flora and fauna. In the short term, Frontier has been collecting data through surveying and monitoring various species thought to be particularly sensitive to climate change, including hermit crabs, primates, big cats, birds and insects.
To conduct this research Frontier recruits volunteers from around the world who take part in conservation and development projects to gain new skills, further careers or gain valuable life experience. One of the main lures of taking part in the Costa Rican wildlife conservation projects is the chance to work with the iconic sea turtles. The sea turtles also provide a rare opportunity for conservationist work as sex determination is thought to be dependent on temperature. Rises in temperature caused by climate change could, therefore, destabilise the turtle population.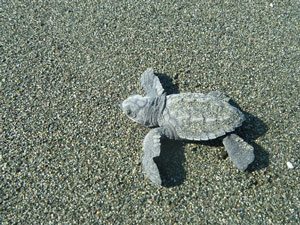 Costa Rica supports two particular types of turtle, the more frequently sighted Olive Ridley (Lepidochelys olivacea) and the rarer Pacific Green (Chelonia mydas agassizii). In order to keep both populations stable, during hatching time on the 10 kilometre stretch of the Playas Piro and Pejeperro, such work as relocating nests and freeing trapped hatchlings takes place, as well as patrolling the beach to deter egg harvesting (a common problem in the 1950s to 1970s) and potential predators such as dogs and coatis.
However, such research may only indicate the effect of climate change after having been done for some time. On a more short-term basis, due to the porous nature of their skin and their use of small microhabitats, the impact of environmental change can be more readily seen in amphibians. In fact the Costa Rican species are thought to have declined by a staggering 75% in the last 35 years due to reduction in pool sizes, less rainfall and higher levels of disease transmission. With the Frontier base camp situated in blocks of primary forest, the perfect opportunity was presented for the teams to survey the composition of amphibian life and check whether this reduction in species is continuing.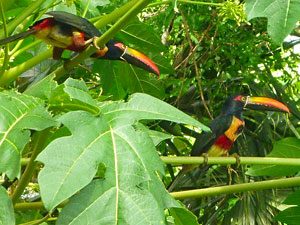 Focusing on leaf litter species, those that lay eggs in the forest floor matter, a portfolio has been built up showing the extent of the species in the area and thankfully, theses early studies have looked promising. A long list of species was compiled with 135 amphibian sightings and 65 captures in July and September belonging to 23 species. This is to be expected to an extent as it corresponds to the rainy season when amphibians tend to be more abundant. Most of the 23 species listed by the Frontier team are also listed on the IUCN Red List as of Least Concern, which might not sound like an achievement, but most of the species have a range limited to Costa Rica and Panama and it is therefore important to focus on these species as a base indicator of any variation in climate change. Such research can also be extrapolated to other areas of tropical research.
Both of these, of course, form only a small part of the research Frontier has been conducting with FoO.  It is important to continue such research over a much longer period of time to enable us to understand the impact of changes to our climate on the wildlife it supports. Only by doing such research can we build foundations that may save the beauty and diversity of Costa Rica's wildlife for many years to come.