By Kacey Schneider, TheCostaRicaNews.com.
Tamarindo, situated on the northern Pacific coast of the Nicoya Peninsula in Costa Rica, has a bit of something for everyone, ranging from cultural colors to culinary delights. Whether you want to go to an Italian restaurant that seems straight from Italy, or you want to experience the local Tico cuisine in full Costa Rica tradition, Tamarindo has it all, no matter what type of experience you might be craving.
The first place to stop in Tamarindo is the Casado Truck, which has one of the most authentic Costa Rican casados available. A casado is a typical Costa Rican dish composed of salad, rice, beans, plantains, and a meat (usually pork, beef, chicken, or fish). The Casado Truck is not your typical restaurant, however. It lives up to its name – literally. The Casado Truck is a white pick-up truck that parks on the main street in Tamarindo each day, and the Casado Truck lady serves the best-tasting casado Tamarindo has out of the back of her truck. It's quite the Tico experience.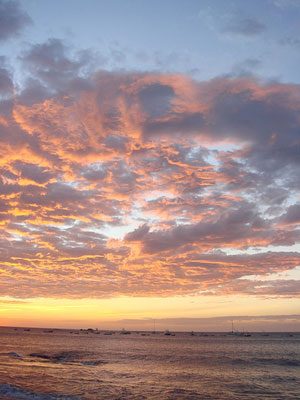 After you've had your fill of rice and beans, it's time to move on to a little taste of Italy. A surprising number of Italians comprise the Tamarindo population, and they take their food very seriously. From true Italian pizzas and caprese salads, you can find some of the best Italian food there is – while still staying on the beach in a surfer town. With bottles of olive oil everywhere, the sound of Italian floating around the air, and wine and pasta covering the tables, it's easy to forget you're not in Italy.
Once you've cleared the wine from your head, it's time to make your way to one of the restaurants with a view – Tamarindo is a beach town, after all. Whether you want to enjoy a culinary delight while burying your toes in the pristine sand, or you want to look down on the beaches from a picturesque elevated view, Tamarindo can make it happen. The spectacular sunsets and occasional awe-inspiring lightening storms you'll see while dining on plates such as filet mignon, mahi-mahi, or fresh sushi are sights you won't soon forget (and make sure you take advantage of the multiple happy hours going on!).
The diversity in Tamarindo goes far beyond food. Walk down the street and you'll hear an energetic blend of languages mixing, where the Costa Rican Spanish accent blends with the throaty Spanish of the Argentineans, the Caribbean twang adds spice, a dash of English is thrown in there for flavor, and some German is mixed in for good measure. Diverse music completes the melting pot image, as various musical melodies float in and out bars, ranging from salsa and meringue, to the laid-back notes of reggae and roots. No matter what type of experience you're looking for when you come to Costa Rica, whether it is a culinary treat or a new musical experience, Tamarindo has a little something for everyone.
Whether you want to chill in a lounge-like environment and sip on a cocktail, watch the sunset while indulging in the infamous Costa Rica guaro alcohol, or shake what you've got to some lively reggaeton, you can do it all in this little surfer town.