The technical regulation 484: 2016 to reform the rules governing the use of agrochemicals in the country has no loopholes that allow the impact of the environment, said the Minister of Agriculture and Livestock (MAG).
The Hierarch responded to accusations this way from different producers and environmentalists who claim the existence of biases and weaknesses in the proposed document.
TIP: Get our latest content by joining our newsletter. Don't miss out on news that matter in Costa Rica. Click here.
One of the claims is that the regulations involving the ministries of Health and Environment and Energy (MINAE) in the control of agrochemicals are excluded.
Arauz said that the above is a misunderstanding since the regulation is merely seeking to reduce the red tape required for the introduction of new products, a fact that does not change the inspection of the various portfolios already given in the original document for reform.
One of the sectors most concerned about this new regulation is honey producers.
The director of the National Chamber of Development of Apiculture, Cliff Umaña, said the introduction of new agrochemicals could affect the survival of bees and thus the ecosystem due to their role in pollination.
Beekeepers asked the MAG to pay attention to their comments. In this regard, the Minister of the portfolio said they are willing to review the observations and implement the changes necessary in case any article or transient proposal generates reasonable concerns.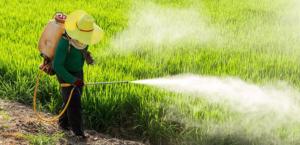 The approval of an agrochemical in the country depends on an inter-ministerial review in which health tests are conducted to rule out involvement in people, the plant protection service of the State (SFE) studies the effects on planting and MINAE has the task to carry out the ecotoxicological tests necessary.
Arauz said that the intention with this reform of the regulation is to allow the introduction of new products with more environmentally friendly profile and better performance in the field which is difficult with the current legislation.
Rigor tests for approval of agrochemicals remain intact, reiterated the Minister of Agriculture.
Source: Luis Ramirez Salazar – AmeliaRueda.com