Let me just admit it from the beginning; the Refugio Nacional de Vida Silvestre Gandoca Manzanillo is an absolute picture perfect. Surrounded by tiny beaches, golden sand, pristine jungle, turquoise tides, palm trees and chirping birds I find myself delightfully stuck in a phenomenal postcard setting over here on a Sunday afternoon. I wonder whether it'll get any better than this, ever.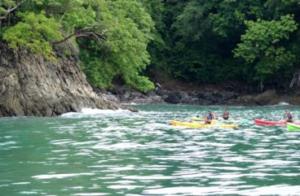 I know; many spots assure this paradisaical feeling here in Costa Rica. But the Refugio Nacional de Vida Silvestre has an extra asset: it's situated at the end of the road of the (already less visited) Caribbean coast, which guarantees an end of the world feeling too. Remote and exotic, this park is sandwiched between sea and the jungle, making it an extraordinary place for a hike. It runs all the way to the Sixaola River at the Panamanian border. And it starts in Manzanillo.
TIP: Get updates on upcoming Costa Rican Retreats & Events by joining our newsletter. Don't miss out on what's happening around you! Click here.
A SLEEPINGLY VIVID TOWN
Though dipped in an upbeat Afro-Caribbean rhythm, this laid back and pristine town has a pleasantly sleepy feeling. The sceneries of the village throw you back in time. Manzanillo barely counts 300 people, a handful of tourists and inestimable palm trees.
To reach the tiny town from San José; drive the route 32 all the way to Puerto Limón. Once over there turn right, pass Cahuita and Puerto Viejo and ride along the long sandy scenic beaches. Once you'll see an increasing amount of children playing soccer, fishermen in their blue boats and Tico families famously barbecuing next to their car, you know you're getting close to the park. Drive until you can no longer, park your car, buy some empanadas and a pipa fria and cross the wire bridge.
FREE AS A BIRD
Just so you know, right now you're in the park already. Maybe you didn't even notice it, since there's no entrance, ranger station or whatsoever. You're free to go as you please in the Refugio Nacional de Vida Silvestre, but be careful: the park is huge. It protects 5,013 hectares of lowlands, 4,436 hectares of coastal waters, 15 kilometers of coastline. You might want to consider a guide (ask for one in town) for your safety and to see a bigger amount of birds, mammals and amphibians. They know exactly where to find the camouflaged species and they'll add up to your herbal knowledge too.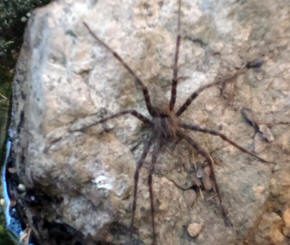 The immensity of the park guarantees a lot of adventures. Long is the list of activities one can do: kayaking, snorkeling (the park has a coral reef), watching the leatherback laying its eggs at night or go on a dolphin or waterfall tour. Or go for a hike, since the entire coast from Manzanillo to Punta Mona is a beautiful one to admire by foot. Just like I decide to do with my hiking sidekick.
MONKEY POINT
We leave early in the morning for the route to Punta Monkey (monkey point). This one is the best accessible trail the park features, crossing beaches and forest. Starting by walking along the beaches southwards in Manzanillo, we climb up the hill before we take our first break at Punta Manzanillo: a beautiful viewpoint upon a rock. From up here we can clearly see how the lush jungle overgrows the cliffs.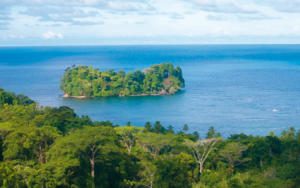 Next we cross another hill. Thankfully the road isn't muddy and slippery today; even on flip-flops we'd be able to walk it. Though as I sink away in the mud a couple of kilometers further down the road, I am thankful wearing my sneakers. Very often the rain showers can make this area hike rather dirty and difficult. And the rain can occur during any time of the year unfortunately
We reach a beach, straight out of a Pirates of the Caribbean movie, which will be the last we'll encounter for a while. From up here we follow the jungle trail, crossing through primary and secondary forests for the next 6km.
MONKEYS AND MORE
Trying to be as quiet as we can while walking, we listen to the sounds around us. This piece of jungle attracts an extreme amount of tropical birds. Some 380 species, such as tanagers, hummingbirds, kingfishers, toucans and the highly endangered harpy eagle are singing their songs from out of the lush surroundings. We not only able to hear them, the bird watching itself is phenomenal too.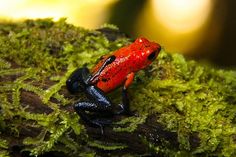 Never far away are the monkeys either. We hear the howlers' threatening voice for almost the entire day. The capuchin monkeys aren't shy too and every now and then we're even able to see a furry ball hanging in the tree: sloths. More difficult is it to spot other species prevalent in the park, such as the ocelots, pumas and pacas. The natural mangrove beds along the reefs of the coast even house some crocodiles, alligators and otters.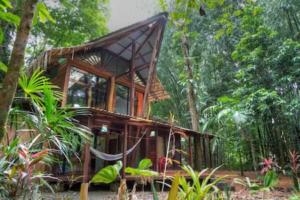 However, as my friend stumbles over a branch in front of me, we have the doubtful pleasure to encounter a special specie too: a wolf spider. Hiding beneath the branch in the empty space of a root, the spider is more scared for us than the other way round without a doubt. Still I find it difficult avoiding a shiver while stepping over its hiding place.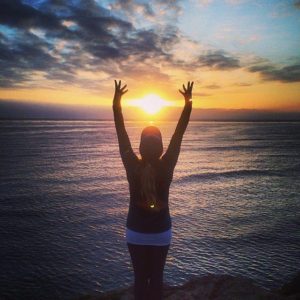 Thankfully we are almost near the end of our route. During the last kilometer we see a plethora of strawberry poison dart frogs hopping around. I try to count them, but give up when I reach hundred. I have to pay my attention now to the road anyway, since it is becoming more challenging walking it. Puddles are taking over and it is an intensive effort finding the better parts of the jungle road.
We conquer the last hundreds of meters and finally reach the sea. While shaking off all the dirt from the jungle, we plump down on the pristine Punta Mona beach. With the view of an overgrown uninhabited island in front of you, this beach again mirrors that perfect postcard setting. No need to tell it's a great place to spend an afternoon.
Cut a coconut or two and snorkel the reef right before the beach. From up here, at 4pm daily you can take the boat back to Manzanillo (inform in town for the current schedule before you leave). Or you simply walk back. Who knows what fantastic creatures you'll see this time.
For more travel info Click Here!