Countless Costa Rican athletes give their all to achieve their biggest dreams.
They go from training to training, from success to success, proudly raising the flag of the Central American country.
On this occasion, we wanted to tell you about the triathlete (cycling, athletics, and swimming), Raquel Solis, a native of the Poas canton of the province of Alajuela, who keeps competing so that she can add the corresponding points to say "present" in one of her biggest dreams, the Olympic Games in Paris 2024.
By the way, a few months ago Solis stood out in the Triathlon World Cup, which was held in Huatulco, Mexico.
She faced high-level competitors such as Anahí Hernández, from Mexico, and defeated Romina Biagioli, from Argentina, who is also competing for a place in Paris next year.
According to what was known, the triathlete had difficulties at the beginning of the swim, but then worked as a group to achieve her goal.
In 2023, the Costa Rican athlete started her second year of qualification, defined as the most important to accumulate points towards the Olympic Games.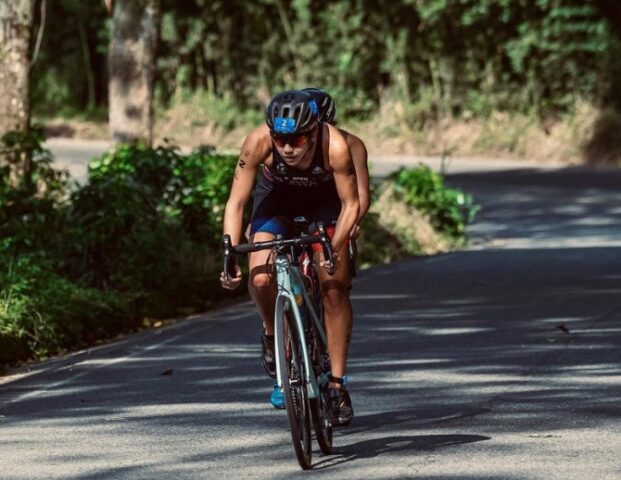 Her family, memories, and teachings
Raquel Solís grew up in a mountainous area of Poás, she had a beautiful childhood in the countryside. While we were talking, she remembered when she was little and ran with her older siblings through the coffee plantations, on the farm, all this because her father's family had some cows and both she and her siblings accompanied him, "these are experiences that marked me a lot, I could take advantage of it and enjoy it, that is different from today, being in the house with the phone or things like that, before we were always outside and played" she said.
Regarding the teachings of his parents, Solis emphasized that they have always encouraged him to keep fighting for his dreams and not give up, to take on commitments, and not to leave things halfway, which, in his opinion, has served him well in the sport. "My dad used to tell me that you have to face situations, even if everything seems difficult, even if they are not the way you want them to be and you get too scared".
She wants to stay in her country
From Costa Rica she is inspired and in love with all its natural beauties and the people, who for her have the particularity of transmitting confidence and warmth, "well we are Pura Vida, I have found people who are like that with me and then that is very nice, for example, in my life in sport I have had the opportunity to attend events in different parts of the country, doing what I like, exploring places, competing, I love my country and I want to stay here," added the Costa Rican athlete.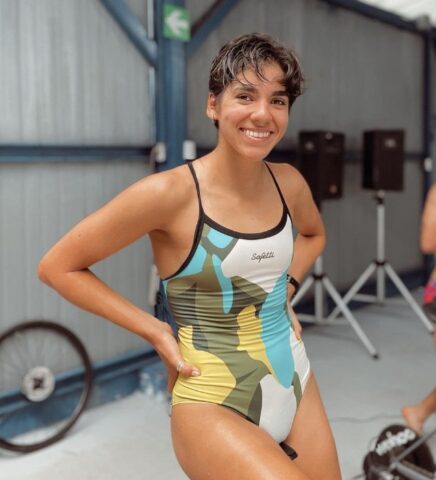 15 years as a triathlete
She was in a bilingual school, which was a challenge for her because of the training, but she knew how to handle it well with the help of her parents. Today, she is studying Physical Education at the university, she only needs the practice to graduate and be able to practice, she would like to be a triathlon coach.
Who motivated her to be in the sport, was one of her brothers, specifically the eldest, because he was always linked to the sport, trying different disciplines, trained and since Raquel was always behind him, both she and her other brother, caught their attention and began to train and learn, what they see today as a very nice process, they learned to swim and started in the sporting world.
Raquel Solis, this year turns 25 years old and has been practicing triathlon for almost 15 years.
Raquel started from scratch to swim, and her father with effort got them a bike. They started cycling from home to train at the pool.
Her biggest pillars in the sport are her family: her siblings, who even took her to her first training sessions, and accompanied me to training.
"Since I am in the national teams, now that I will be in the Coopenae team, I have always tried for my friends to have the same goals as me in the sport, I have tried to be surrounded by those people who have serious purposes, because that way they help me to improve, the same coaches and mentors among them, Roberto Solano the current one, has taught us to make the most not only for sport, but also for life; I think that all this follow-up with my coach has been incredible and has helped me to grow as a person, and good to be in this serious process, with my eyes fixed on the Olympic Games in Paris.
The training routine
The training routine of Raquel Solis is quite demanding, are 7 days a week, each day is three and a half hours, even a little more in some; are alternating daily sports, for example: Monday swims and then goes with race; Tuesday same swims, runs, exercises in the gym; Wednesday goes out to ride a bike and also with nothing and so … so you can meet the proposed objectives.
The young Tico athlete considers today that she has had the joy of being in many events both nationally: in all these years of competition, the results are positive, she has been national champion for 6 consecutive years, which is very significant for her; when it comes to international events, she has been able to be a couple of times on the podium, "until this year I could get on a podium in a continental cup, I hope to be there," added Solis.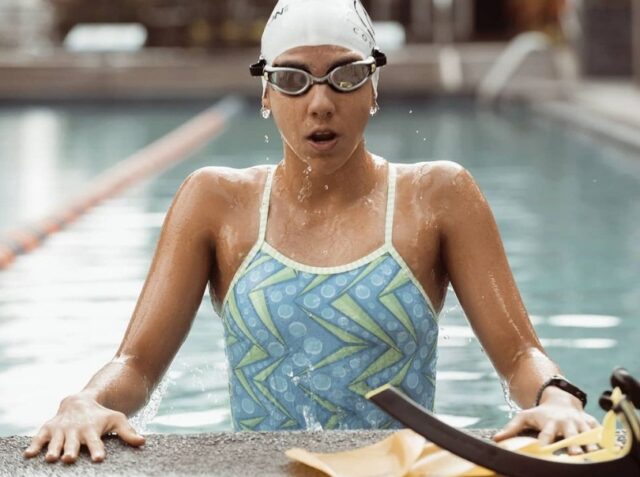 Difficult moments
The main challenge in the sport is related to health issues, specifically problems at the hormonal level, and everything related to the menstrual cycle, "I had excessive bleeding and then, I was with anemia, that for performance, to carry the training routine was not adequate, so I had to do an iron transfer through the vein twice, and it has been difficult to find how to control it; Thanks to a doctor today I can be more stable and be able to perform my training in the best way, also on one occasion I injured my calf, those moments undoubtedly marked my sporting life".
Competitions and achievements
Most of the sporting events in which Raquel has participated, many of continental type, other Student Games, as Junior Elite throughout America and Europe keep her more and more with great satisfaction, "now in the elite process, the continental cups are the main thing, then we stayed in sporting events in the United States, Canada, Mexico, some in Colombia, in Ecuador, we have gone a couple of times to Argentina and Uruguay, I have had more than 50 international events according to the ranking, and also one or another training camp" she detailed.
Of course, she wants to achieve the Olympic dream, she has been aspiring for several years, for her everyone is fighting for the same, even her family, "I hope to continue achieving goals to be there, I would like to try one more time and maybe later aspire to many greater things".
This September 1 and 2 she participated in a Pan American Triathlon in Veracruz, Mexico, the event is considered important because it will add many points, and a week later, she will be in Santa Marta, Colombia, the same in a Continental Cup competing, all this is important for the personal ranking and the Olympic goal.
Role models for Raquel
Raquel admires people related to sports, mostly at an international level the elite girls who have been in the Olympic Games with the Triathlon discipline; she also recognizes at a national level, the performance of girls from other sports who are inspiring and Olympic, "one of them is Andrea Vargas who despite being a mom and all, has been too amazing and Brisa Hennessy surf, who has no limits with her talent".
In her free time, she enjoys…
The extroverted Tica likes to watch movies and series, she says she enjoys it very much, as well as going to the movies; she likes to read and listen to podcasts about mindfulness issues, "I feel that they can contribute something in my life, I try to invest my time in that. Now that I live far from my family, I try to organize myself to see them and have a cup of coffee with them.
Virtues and defects
Raquel Solis defines herself as a focused person, clear in her goals, motivated to go for what she wants, and optimistic mainly because in sports many times things do not go as you want, that also helps a lot in the disciplines that are demanding; among the defects, she says she is distracted, "and that gives me problems because I forget to do important errands".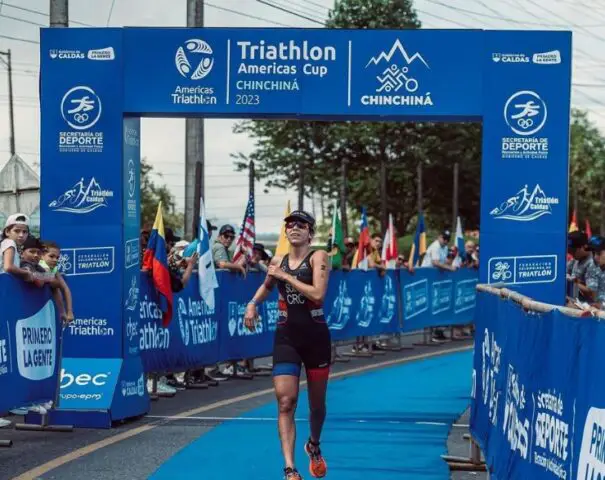 The triathlete, despite the pros and cons, is convinced that one must strive to do things as best as possible, noting what can be improved, without forgetting not to be so hard on ourselves, because we are not perfect.
"Try to find what you like, what you are passionate about and focus on that, work for your dreams, it will not be easy, you have to take risks, and sacrifice things, but if it is something that you want, of course, it will be worth it and it will make us feel proud all our lives to see everything we have done" with that motivating message ended the pleasant conversation She had with TCRN.
So far, Solis has secured her ticket to Paris through the "New Flag" modality, and now her task will be to keep it.
You can follow her on her Instagram account: @raquelsolisg to learn more about her day-to-day life.