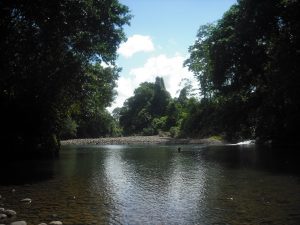 PUERTO VIEJO DE SARAPIQUÍ, Costa Rica — Something crashed into the water off to one side of our narrow, flat-bottomed boat on the swirling Sarapiquí River.
It was a big tree limb that had broken under the weight of two huge green iguanas. The iguanas were now stroking for shore in the creamy, coffee-colored water.
The skipper of the little blue and white boat had what looked like a child's dressing mirror in one hand and was playing reflected sunlight over the tall trees like a spotlight. The spotlight came to rest on a beige ball of fur, barely visible in a notch of a nearly 100-foot-tall tree: a dozing two-toed sloth. A family of howler monkeys was doing acrobatics in the tree tops, and some chubby black vultures were pecking in the wet, rusty-red marl of the shoreline.
We were in Central America, less than two hours by minivan from San Jose, the gritty capital of Costa Rica; and we were deep in the raw, wild tropical countryside of one the best preserved and biologically diverse places in the world. This is Costa Rica's gift to the rest of us.
The entire country wedged between Nicaragua and Panama, is a bit smaller than West Virginia. Yet it is home to hundreds of kinds of birds, trees, flowers, ferns, shrubs, ocelots and anteaters; brightly colored and deadly poisonous miniature frogs; and 22 kinds of snakes that can make you very sick if they don't kill you outright. Costa Rica has good surfing and sport fishing and about 100 sleeping volcanoes. Seven other volcanoes are very much awake — and all of them are nice to look at.
All of this is two and a half hours by plane from Miami. Once you've landed, you can be in the midst of a jungle or on a beach in a couple of hours. The country has become a magnet for people who want to be close to nature. It is now drawing about 2 million tourists a year, many from the United States. Tourism is the country's No. 1 business. It is also a paradise for researchers, some of them working with plants that they say may be useful in treating cancer and other illnesses.
Constant battle
Costa Rica began taking steps to protect its environment decades ago, unlike most of its neighbors. But environmentalists are waging a constant battle with people who have great ideas for making Costa Rica even better. Investors argue for bigger and more glamorous resorts, and oil companies have been angling for exploration rights. The government has established fines for cutting down ancient trees, but still farmers and ranchers clear more land. Costa Ricans say you can sometimes hear the whine of the chain saws of pirate loggers.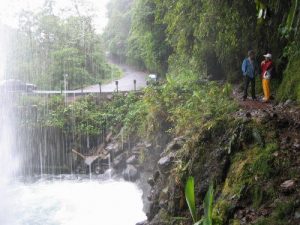 The environmentalists worry that the sheer volume of tourists threatens what is best about Costa Rica. But, at least for now, the country offers a rare opportunity to walk on the quiet, shady floor of a rain forest, to tune into conversations of birds and monkeys and insects, and to imagine what life may have been like hundreds of years ago before people began improving the earth.
Like most countries, Costa Rica struggles to meet the needs of its people. But it is one of the few countries in the world without an army, and it is way ahead of most of Latin America in social benefits. Nearly every household has clean drinking water. In principal, health care is free. Nearly every child goes to school, and very few Costa Ricans are illiterate. Many Americans have retired to Costa Rica.
But Costa Rica has done almost nothing to treat the sewage of its 4.5 million people. It is a mainly invisible pollution. The country's rivers and beaches suffer, and people sometimes get sick from preventable water-borne diseases. People along the Sarapiquí say they are careful about what they put in the river, and that it is cleaner than in years gone by.
In the 1970s, Costa Rica, one of the historic banana republics, began cordoning off chunks of the countryside from any kind of development. Now roughly 25 percent of Costa Rica is protected .
Capital and beyond
San Jose sits in a beautiful broad, green bowl. But it is crowded and noisy and full of exhaust fumes, and travel companies recommend that people go straight from the airport to eco-lodges and resorts.
To get to the banana and pineapple farming town of Puerto Viejo de Sarapiquí, we climbed in our mini-van on a smooth, wide macadam highway from the flat central valley of San Jose past the smoking chimney of the Turrialba volcano, over a 5,000-foot-high ridge of rainforest and into the hot, moist and marshy coastal plain. To the west were volcanoes and highland lakes and hot springs; to the east, crocodiles and manatees in swamps that pushed up against mangrove beaches where sea turtles nest.
Out on the Sarapiquí River, about 40 miles south of the Nicaragua border, blue and white swallows were working their wings like humming birds, and a yellow-vested Great Kiskadee darted close to the water. An anhinga, one of the great diving birds, rested on a smooth driftwood log, drying its outstretched black wings in the afternoon sun.
The skipper of the flat-bottomed boat, Pedro Hernandez, 49, said he had been working the river for 15 years. He says the river is in better shape than when he started. The government has banned the use of nets for fishing in the river, he said, and it has been encouraging people to recycle their waste.
Hernandez gets a thrill out of showing off the unspoiled land. A lot of people along the river recognize that if they take care of the river, he said, it will take care of them.
"We've got to protect the river," he said. "It's our heritage. And it is our future."