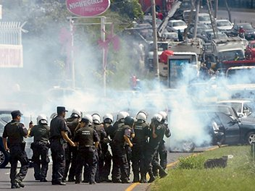 by TCRN Staff
Hundreds of pirate taxi drives turned San Jose and surrounding areas in chaos yesterday by blocking streets, slowing down traffic and precipitating violence that prevailed during the early morning hours.
The drivers, untied in the National House of Porters, were in the streets demanding the government withdraw a bill that aims to eliminate pirate taxis as prescribed by the Commercial Code.
From 6 a. m. until 10:30 a. m. five porters were arrested, seven security officers were wounded, two transit officers assaulted and two vehicles towed for obstructing traffic.
The most controversial sites were radial Zapote (Pipiolo – clinical Carlos Durán) and the Route 39 bypass, near the Presidential Palace, where the carriers completely blocked circulation.
There were slowdowns and partial closure of roads in the vicinity of the Plaza de la Uruca Roundabout and slow transit in the General Cañas Highway.
There were also blocks in other sectors such as Canas, Liberia, Perez Zeledon, Cartago, Turrialba, Alajuela and Naranjo.
The most violent area was undoubtedly Zapote, which gathered over 200 drivers with their vehicles. They blocked all traffic (both ways) and the street leading to the presidential palace.
At 9:30 a. m. the anti-riot unit of the security forces had to intervene to prevent the throwing of stones and attacks on civilians.
According to Raul Rivera, director of security forces in San Jose, three men led the fighting, then they attacked a vehicle with stones.
"A man forcibly opened the driver's door, tore a boy's shirt and threw two shots at his face, while the other two broke the windscreen with stones," said Rivera.
At that time, other drivers began to start a fight with the policemen.
The security forces had to use tear gas to disperse the more unruly parts of the group.