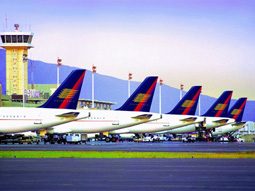 by TCRN Staff
Roberto Kriete, CEO of TACA Airlines, said yesterday that his company has postponed huge investments in Costa Rica due to infrastructure constraints at the Juan Santamaria International Airport.
Aeris took over the management of the Juan Santamaria last year and is tasked with completing the works to modernize the airport.
The manager would not disclose the amount frozen, but reiterated several times that he is "frustrated" because while their competitor Cup implemented a "powerful" hub (hub flights) in Panama, Taca wants do the same here.
"We have been totally frustrated. We have wasted seven years of investment in Costa Rica, seven years in which Cup was held in Panama at the expense of our growth in Costa Rica," he said.
According to Kriete, their expansion plan here was stopped by obstacles that has delayed the work to modernize the terminal be at least 58 months.
The situation occurred between 2003 and 2009 during the tenure of Alterra Partners, which were the previous managers.
The construction was reactivated in March last year, but under the management of Aeris.
"When we decided to go big in Costa Rica we did so on the grounds that the airport would have a substantial expansion, but that has not occurred. So we had to postpone investment, retaining growth capacity and not putting more flights on the schedule because the airport has no capacity to manage them," argued Kriete.