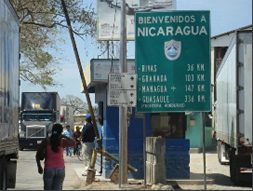 by TCRN Staff
As of yesterday, the border crossing from Costa Rica to Nicaragua at Penas Blancas was reopened for trade, at least for specific products.
According to Amparo Pacheco, Vice Minister of Foreign Trade of Costa Rica, after being closed for two days due to disputes, the border opened yesterday and will remain open from from 6 a. m. and 10 p. m. in order to expedite the passage of the approximately 200 transport vehicles that have been stalled there.
It all started when without further explanation, Nicaragua banned the entry of goods last Thursday, at 6 p. m.
The Comex suspected that it a reprisal because authorities imposed new requirements on the entry of beans from Nicaragua.
"We have no precise information, nor on the source of the problem nor the solution. We made many efforts yesterday (Friday) but they did not give us an answer. The contacts were between the Ministries of Agriculture and Commerce of both countries," Pacheco said yesterday.