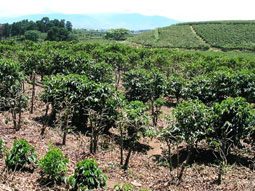 by TCRN Staff
A 35% decline in national production of coffee in the last seven crops have stimulated authorities to the sector to begin seeking solutions to the problem.
During the 2002-2003 growing season, production reached 2.92 million bushels (equivalent to as many bags of 46 kilos or pounds of processed coffee).
The current harvest of 2009-2010, which is about to end, amounted to only about 1.9 million bushels, according to the Coffee Institute of Costa Rica (ICAF).
Ronald Peters, executive director of ICAF, attributed the sharp decline to the age of the plantations stating that about 40% of the plantations have been producing for over 25 years.
Costa Rica currently has some 98,000 hectares planted with coffee, according to the statistical bulletin of the Executive Secretariat for Agricultural Sector Planning (Sepsa) which belongs to the Ministry of Agriculture.
ICAFE expected the 2009-2010 crop yield to rise by around 7% over the previous year of around 2.5 million bushels. But that first crop estimate was reduced to 2.2 million bushels.
Now that the collection is about to finish, ICAFE estimated it to be just about 1.9 million bushels, down 13% from the 2.2 billion bushels harvested in the 2008-2009 growing season. In the last two seasons producers faced serious problems with fertilization of their plantations.
In 2008-2009, fertilizer prices were very high and virtually no one could buy any, said Peters. In the 2009-2010 fertilizer prices came down to "reasonable" levels, but the drought did not support the applications as nutrients should be applied with moisture.
The low fertilization from in these two seasons resulted in the grains not reaching the expected thickness, said Peters.