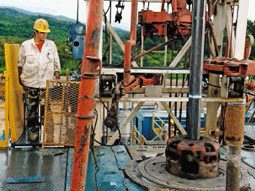 by TCRN Staff
The construction of a new geothermal power plant in Liberia, Guanacaste, is now 55% complete, according to the Instituto Costarricense de Electricidad (ICE) last week.
The plant, called The Pailas, is located near the national park Rincon de la Vieja.
The aim of this work is to supply electricity to the national grid beginning in 2011, which will help ensure energy supplies across the country.
Gravin Mayorga, deputy for ICE, said the Pailas will contribute to the production of clean energy, cheap and available in the dry season and rainy season.
Geothermal plants generate electricity by harnessing the steam content sites on Earth.
To do this in Las Pailas they need to drill to 2,000 meters deep.
When the reservoirs are made by the excavations, the steam comes out at a speed able to drive turbines to generate power. The stream can reach 100 kilometers per hour.
This energy is much cheaper and cleaner than that generated by combustion of petroleum products such as diesel.
Moreover, geothermal energy has the advantage of producing electricity 24 hours a day, 365 days a year.