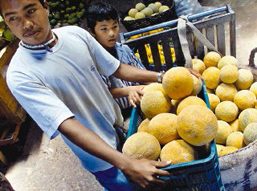 by TCRN Staff
Overall trade of goods has been showing steady signs of recovery since last November.
Cumulative exports in the last 12 months (February 2009 to January 2010) totaled $ 8.886 billion, up 5% over the previous 12 month period ending in January 2009 (February 2008 to January 2009) .
This comparison allows us to see the long-term trend and reduce seasonal factors influencing the short term.
The same operation is done for each month in order to analyze the trend.
Regarding imports, the accumulated revenue generated over the past 12 months, ending in January, totaled $11.588 billion, up 22% over the same period last year and also reinforces a trend towards ever smaller reduction since last November.
The excess of imports over exports of goods accumulated in the last 12 months was $2.701 million, half of what it was in the past 12 months ending in January 2009 and also changed the trend.