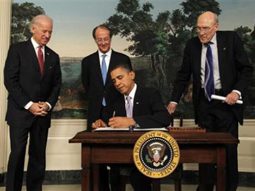 The official confirmed a report in The Washington Post that a Republican and two Democrats had emerged as leading candidates to be among Obama's six appointments to the panel.
The newspaper said that Republican David Cote of Honeywell and Democrats Andrew Stern, president of the 2.2 million-member Service Employees International Union, and Alice Rivlin, the former Fed vice president who was also budget director under former President Bill Clinton, could be named within days.
Obama named former White House chief of staff Erskine Bowles, a Democrat, and former Senator Alan Simpson, a Republican, on Thursday to head the bipartisan commission.
The panel will have 18 members, 12 to be appointed by Democratic and Republican leaders in Congress, and six by Obama. The White House said no more than four of Obama's choices will be from the same political party.
The Democratic president said the panel would have the latitude to consider any proposals to cut government spending and raise taxes, but analysts said they doubted the panel would have any teeth.
The commission is seen as being unlikely to be able to sway the bitterly divided Congress to take any politically unpopular steps necessary to stem the tide of red ink.
The White House forecast a $1.6 trillion budget deficit this year, or about 10.6 percent of gross domestic product.
(Reporting by Patricia Zengerle, editing by Eric Beech)