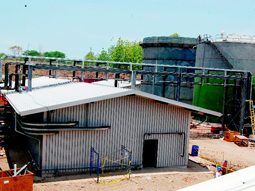 by MERCEDES R. AGUERO
The Garabito thermal power plant complicates the goal of Costa Rica to become the first carbon neutral country in the world in 2021.
The plant, which will have an installed capacity of 200 megawatts, will burn 122 million liters of fuel to produce electricity in 2010.
This will involve producing about 400,000 tons per year of greenhouse gases (GHG) emissions expressed as carbon dioxide (CO2).
That is almost 5% of the total production of CO2 in the country by burning hydrocarbons.
This figure includes the CO2 that will come from the 60 tankers that will transport the fuel every day from the campus of Recope in Moin, Limon, Garabito to the plant in Montes de Oro, Puntarenas.
These vehicles will consume 5.1 million liters of diesel during the four months (February to March) during increased production.
In total the country produces 14 million tonnes of CO2 a year.
These data are part of a study by Jorge Villalobos Clare, chemical engineer, next chief executive of Costa Rican Petroleum Refinery (Recope).
The research is part of his job as professor of Chemical Engineering at the University of Costa Rica (UCR).
The report, published the previous November, concluded that Garabito will have "a negative impact on Costa Rica's aspiration to be the first carbon neutral country (in 2021) and cause a delay to the goal in question.
To Villlobos, investment in that plant "is only acceptable as an emergency and temporary solution for the delay in renewable energy projects."
In December 2007, the Government of Costa Rica made a commitment to the UN Framework Commission on Climate Change held in Bali, Indonesia, to be neutral emissions of greenhouse gases by 2021.
In other words, it was proposed to mitigate all emissions of greenhouse gases generated in its manufacturing processes such as transport, industry and livestock.
The Garabito plant under construction, which is a project of the Instituto Costarricense de Electricidad (ICE), is key to ensuring the power supply and avoid blackouts in coming summers.
Asked about the study, Gravin Mayorga, deputy Energy Institute, said the plant is very modern and has the capacity to handle the gases emitted by engines and reduce the number of particles (pollutants) to be the environment.
"We are anticipating that this same technology to use biofuels, which the plant can be transformed by 2021 to feed it with environmentally friendly products such as biofuels, synthetic fuels or natural gas," he said.
The plant, at a cost of $ 300 million, will come to operate in a first phase in next September. According to Villalobos, CO2 production from the Garabito plant is equivalent to the reductions that could be achieved by moving the electric trains load or using 15% biofuels.
"It is clear that from the environmental point of view the construction of this plant is counterproductive," the report said.
Therefore, he added, is important to accelerate hydropower and geothermal projects to draw from this central operation.