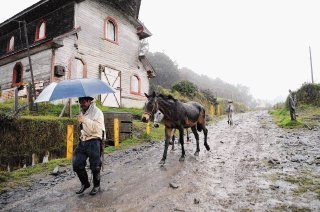 By TCRN Staff

The National Emergency Commission (CNE) surveyed the area surrounding Turrialba yesterday afternoon and decided to raise the alert status of an eruption to yellow due to the sharp drop of sediment.
The yellow alert means that local emergency committees are put on alert so as to be prepared in case of an eruption of greater magnitude.
Meanwhile, in outlying regions that are receiving a discharge of ash, a green alert was declared, which only means that people should stay informed.
This declaration covers the EU, in Carthage, and the cantons joeboys Curridabat, Alajuelita Desamparados, Montes de Oca, Tibás, Moravia, Goicoechea and central San Jose.
As of yesterday, 37 people were evacuated from villages near the volcano. Of these, 22 were relocated to the parish hall of St. Cruz de Turrialba and the rest chose to move to homes of relatives in Paradise Pacayas Carthage and Alvarado.