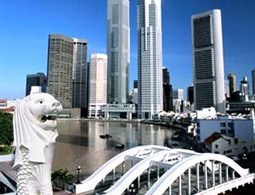 by TCRN Staff

Costa Rican negotiators hope to finalize the free trade agreement (FTA) with Singapore next week.
Fernando Ocampo, chief negotiator for Costa Rica to the FTA, said this week there was consultation with the domestic private sector to clarify and define their position in detail.
According to Ocampo, the focus will be on the negotiation of rules of origin, an aspect in which the Costa Rican businessmen are very cautious.
Singapore is a very small Asian nation, so most of the food products are imported. However, local enterprises are very strong in the industrialization of food and other products.
This situation prompted the private sector in Costa Rica to require hard (inflexible) rules of origin to avoid any triangulation of raw materials or finished goods from that nation.
Examples of this possibility are coffee and milk. Singapore would import raw materials at affordable prices from Indonesia or Vietnam in the case of coffee, and milk from New Zealand or Australia, to produce derivatives and then export to Costa Rica.
The same case can occur with many other products, including some items of plastics, fishing, meat (beef, pork and chicken) and condensed milk.
Costa Rica as a rule of origin requires that the raw material for these products to be harvested or obtained in Singapore waters or territory, thus eliminating the possibility of importing it.
Singapore so far was flexible with requests from Costa Rica on origin of products that enter into free trade, said Ocampo.
Furthermore, Asian negotiators called for increased access to fruit juice, condensed milk and some plastics.
"What remains are just some details," Ocampo stressed.
The round of negotiations in which they expect to conclude the FTA will begin on Monday. The headquarters for the talks will be the Double Tree Cariari by the Hilton and will last all week.