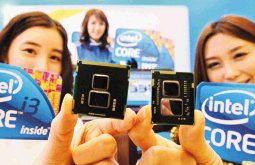 by TCRN Staff

The Intel plant in Costa Rica will assemble and test the new 32-nanometer chips, the first of their kind in the world, with smaller transistors and higher speeds than have ever been achieved for desktop computers.
The company introduced this new product family to the world Thursday night at the CES technology fair in Las Vegas.
The responsibility of the assembly and testing of these chips will be shared with the Penang plant (China), explained Karla White, manager of corporate affairs at Intel Costa Rica.
The most advanced technology to date was 45 nanometers. A nanometer is a billionth of a meter. In the 45-nanometer technology, each of the millions of transistors inside the processor would have such a width. Now with the new size is 32 nanometers each.
Although there will be several versions of these processors, on average, a 32-nanometer chip, Intel will have about 1,900 million transistors. In contrast, 45-nanometer technology united in a single chip between 410 million and 820 million transistors.
These chips are already above the 3 GHz mark smoothly. Their prices are around the $ 200 to $ 300 (wholesale), for the most part.
As White explained, Intel Costa Rica has been involved in various processes of production of the new chip, first mask design, which is to design the patterns of the areas in which transistors are placed and the connections between transistors on a processor.
"We also participated in the design and development. A third group-the division of development and testing of content-participated in designing the testing scheme that ensures the functionality of the 32nm Atom processors," said the manager.
"This shows how Costa Rica continues to contribute to change the world. While the original transistor built by Bell Laboratories in 1947 was so large is could be built by hand, now more than 60 million transistors at the 32nm size fit on the head of a pin, "said White.
With the introduction of 32-nanometer chips on Tuesday, Intel demonstrated its leadership to its traditional rival, Advanced Micro Devices, AMD-on efforts to reduce the series of circuits that are in their processors.
AMD will not market their 32-nanometer chips until at least 2011. The company has argued that the size of circuits is not as important as performance and graphics processing.
The greatest use of space to accommodate small parts of a chip is crucial to add functionality and reduce costs. Consumers perceive the difference in better machine performance and reduced cost of powerful computers.
The new processors enter the market following the launch of Windows 7 operating system from Microsoft, which Intel executives hope will brings about a renewal in computer equipment.