Costa Rica has one of the greatest biodiversity in the world. There are innumerable species that characterize the country and, no doubt, you will be fascinated by such a beautiful natural spectacle.
In the case of the "Lora" turtle species, which according to experts was in danger of extinction and now thanks to very strictly enforced conservation laws in the country it can be observed annually grouped in various Costa Rican beaches.
Lora turtle swims in the warm waters of the tropics. Normally, it can be found in the world's oceans. In the case of Costa Rica, it nests only on the Pacific side, and the largest number, in Guanacaste.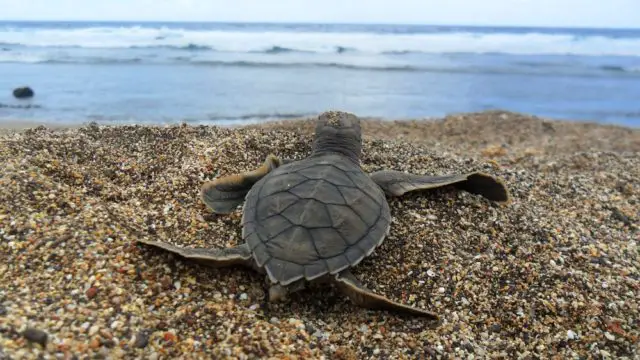 Let's learn a little more about the Lora turtle. This species of sea turtle is the smallest that can be seen in our country. Its flattened shell is heart-shaped and has 6 to 8 pleural plates on each side, as well as 2 pairs of scales, are on the face, between the eyes and the nose.
The turtle's upper side contains 2 olive tones. Males have a long tail and a plastron (a flattened structure that forms the ventral part of the shell) concave, while females have a short tail and a flat plastron.
Lora turtle has a very particular life cycle due to its arrival on the beaches in both high-season (September-October) and low-season (January-June), which consists of a large group of turtles nesting at the same time and place. More than 150,000 sea turtles congregate in shallow waters, nesting in the same small area. A lot of eggs are removed or destroyed by the females that arrive later on. Costa Rican legislation allows some eggs to be collected at Ostional Beach.
Specialists comment that the Lora species is the only one that exhibits this phenomenon of massive nesting in Costa Rica and it is really an enigma why this synchronized nesting system takes place. It is believed that this is due to avoid predators or because it has a more effective reproduction.
It should be noted that during the arrival of turtles, access to the beach is restricted and visitors must have an accredited local guide to observe their incredible release.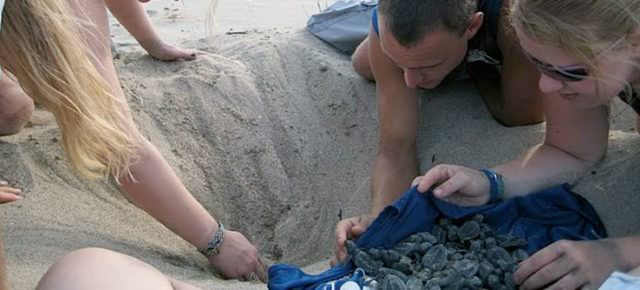 The release of Lora turtles hatchling season 2018
On August 20th thru 25th, both tourists and Costa Ricans could see in Playa Tortuga Natural Reserve, the first 2 releases of baby turtles of the 2018 season. It is worth mentioning that the Lora Turtle conservation organizations keep generating awareness campaigns due to what we mentioned above regarding the danger of extinction of this marine species. The campaigns are directed mainly against garbage dumping in the ocean, especially plastics. Wastes arrive one way or another to the beaches, directly affecting not only sea turtles but all marine species.