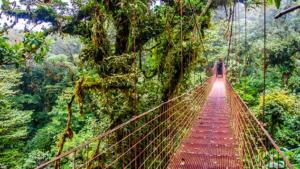 A Costa Rica vacation could just be the perfect trip. The independent travel magazine Lonely Planet, which visited Costa Rica in late 2011, has featured the country in its "perfect trip" section. The magazine states that, despite being in the narrow Central American isthmus and being a very small country, Costa Rica has mysterious cloud forests, quiet and beautiful beaches and extraordinary wildlife, all of them elements to have a wonderful trip.
TIP: Get updates on upcoming Costa Rican Retreats & Events by joining our newsletter. Don't miss out on what's happening around you! Click here.
In 14 full color pages, the publication of May recounts the experiences of the production team in different parts of the country, highlighting the best of the places they visited.
The publication also makes suggestions about where to stay and where to eat in each of the places visited.
The best of Costa Rica according to Lonely Planet is described as follows:
• Puerto Viejo de Talamanca: the best food
• La Fortuna: the best adventure
• Monteverde: the best for forest walks
• Nosara: the best of the beaches
• Osa Peninsula: the best of the wildlife
In addition, the publication, which was supported by the ICT, discusses the many things to do in San Jose Costa Rica, places like San Jose's Museum of Costa Rican Art, Pre-Columbian Gold Museum and Numismatic Morazán Park, among others.
According to Lonely Planet, other places tourists should visit on their Costa Rica Vacation, are Tortuguero, Bajos del Toro and Manuel Antonio.
The Costa Rica News (TCRN)
San Jose Costa Rica