Heavy rains may have caused landslides and numerous floods, but they did not break the will of dozens of ticos and ticas who wanted to meet and greet Italian singer Laura Pausini. Fans from all over the country gathered last Monday to organize a warm welcome for the famous pop star.
Pausini landed around 11 pm, and she was received by her fans with t-shirts, balloons, signs, screams of joy, and tears at the entrance of the InterContinental Hotel in San José. According to her website, the singer took a few moments to share with her followers.
Laura Pausini, who became a huge international success in the 90's for songs like "La Soledad," "Se fué," "Amores Extraños" and others, last visited the country in 1997 during her first world tour.
This time, the Italian diva came back to Costa Rican land as part of the promotional agenda for her eleventh studio album "Inédito", which will hit record stores on November 11th, a date which has a special meaning for the Italian star.
Her website also mentions that she will spend a few days in the country, where she will meet with the media to offer a press conference and several interviews to local reporters.
The news was posted a few days ago on Pausini's official website, and it was met by ticos and ticas with joy and surprise, since they were expecting her until February 4th, next year, when she will perform at the National Stadium as part of her 2011-2012 World Tour.
"Call your friends…I can't wait to see all of you", were some of the words Pausini shared on her Official Fan Club site, inviting all of her fans to join her in this new journey.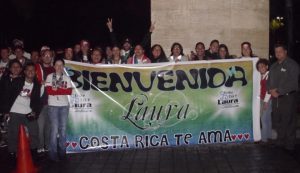 Tickets to Laura Pausini's concert can be purchased at www.todoticketcr.com, and also at "Casa de las Revistas". Prices range between ¢22,000 and ¢90,000. The event is organized by TMG Productions and Doble Jota Productions, and it will have Puerto Rican singer Luis Fonsi as a guest artist. National artists will perform during the event too.
Laura Pausini has sold over 50 million records around the world. There is a belief in Costa Rica that "no female singer can sell out a concert". However, given that it has been 14 years since she last performed in the country, and that people from other places in Central America will attend the concert as well, this belief may be proved wrong this time. If anything, Pausini's concert promises to be an unforgettable night of romantic music and great talent.