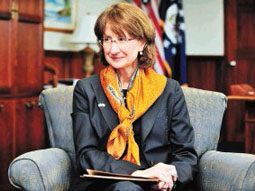 You arrived during the election. What are your impressions of local politics now?
First, congratulations to Laura Chinchilla on her victory in the campaign. She is a very complete candidate and gave a very measured and successful campaign. In the campaign for me it was very interesting to see the levels of participation of the candidates and all Costa Ricans. I had heard that Costa Ricans were very proud of their political processes and democracy, now I feel lucky to get to your country and see it firsthand.
In the midst of the warmth of Costa Rica and the United States, what are the challenges for their relationship?
There are two areas of high importance and in which we must work together: public safety and commercial prosperity.
How will work on public safety?
Public safety is a topic of many dimensions. Most people think first of that violence comes from the increase in drug trafficking. The United States recognizes that it is a serious issue and we are working very closely. What I stress is that public safety goes beyond this concern. An example is the program for teaching English to children, giving the opportunity of greater economic prosperity and avoiding poverty that would induce them to join gangs.
Can you change the resources that the United States intended by the Merida Plan?
The United States recognizes that in the last few years has been a change in the volume of drugs on Central America and that is why there are specific funds for this region. Now America wants to give greater recognition to a program focusing on Central America.
Any specific new initiative for Central America?
It is an evolution of the Merida Plan focused on Central America. Carsi it is called (short for Central America Regional Security Initiative)
With more resources?
Both programs are subject to funding being processed in Congress.
But President Obama is giving priority in the budget for 2011 other world regions, Asia and Africa.
I have not had the opportunity to study the President's budget, but I was in a conference with heads of mission in Washington two weeks ago. There Secretary Clinton showed great interest in Latin America.
Once the FTA is implemented, what other business challenges are there?

We must build the capacity to increase investment and trade. There are several international organizations that qualify the business climate of each country and Costa Rica does not always emerge in such studies as their potential suggests.
We are committed to initiatives to train Costa Rican officials and address these trade barriers. We have initiated a technical assistance program for financing infrastructure works great.
Is bureaucracy really a problem for portential investors in this country?

Costa Rica has been attractive for investment. In 2008 there were over $ 1,200 million, but I met with entrepreneurs and recognize that there are still barriers that limit opportunities for investment.
You are an expert in clean energy. Is this issue a priority of his administration?

One reason for my interest to come to Costa Rica is its leadership in environmental conservation and its commitment to be CO2 neutral in 2021. It is clear that caught my eye.
Did you know that Costa Rica is reassuring follow the government line of Arias?

There is no doubt that President Arias is highly respected leader and has been a good partner. We shared a great interest and appreciate your support in many international forums, including the Security Council. We value the elected president, interested and concerned in citizen security and clean energy. We believe that we will work together.
You expect to continue to enjoy the country as a political partner?

Costa Rica is a leader in Central and Latin America for its democratic and economic stability, with opportunities for many residents. It is a valuable partner to share our values of democracy and economic prosperity.