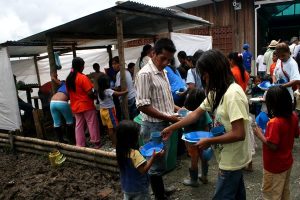 Costa Rica News – After several attacks against the indigenous community in Buenos Aires Salitre of Puntarenas, there has been more vandalism and violence, this time in the indigenous territory of Térraba.
Allegedly community members started a fire in the local indiginous Museum, on Sunday February 17.
The Community Museum Térraba Indian Territory is of great importance to the locals, it also has a library where young people can go and see the documents for their education and also aims to revive the cultural values and promote the identity of its people.
To the Council of Elders member and manager of the museum teribe, Enrique Rivera, this is not an isolated incident. "Threats, insults, persecution of people, this is a threat (…) are the people who are against the rights that we fight," said Rivera.
Rivera reported that those who perpetuate these constant threats are both indigenous and non teribes that have been influenced.
"We are fighting about indigenous rights, land and autonomy (…) five or six years ago we re-took land and since then the (threats) have been constant"
The incident occurred precisely during a Teribe Cultural Encounter, which brought together a delegation of indigenous teribes of Panama. The same day the complaint was filed against the suspects, thought to be responsible for this act of vandalism.
For the defender Deputy Ombudsman, Luis Fallas, a necessary dialogue between government authorities and these indigenous peoples "has been avoided for many years," he said.
Despite the efforts of the present government to establish a forum for dialogue to mediate the situation, analysis indicated that this issue should focus on development of a whole community and just isolated events.
There have also been reports of violence in schools, violence in the church, insults on the buses … in an area where 85% of the land is owned by non-indigenous.
The Costa Rica News (TCRN)
San Jose Costa Rica