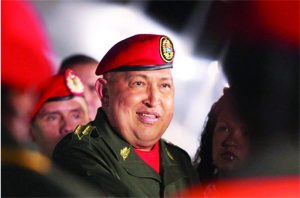 In 2005, it was reported that of the 350 million people in South America, three out of four lived in countries ruled by "left leaning presidents" elected during the preceding six years, and since many of them have been re-elected. Although many of these left leaning presidents have moved a little more towards the center, in general the left movement in South America has not slowed.
U.S. corporate media expresses alarm about the threat posed by left-wing governments in Latin America, which is primarily a generalized concern about left governments' commitment to democratic concepts and ideals.
TIP: Get our latest content by joining our newsletter. Don't miss out on news that matter in Costa Rica. Click here.
To most Venezuelans, the Bolivarian Revolution under Chavez has greatly improved the lives of most. It's become part of the national culture. It may very be that the Bolivarian Revolution will be Hugo Chavez's greatest legacy.
But what is the Bolivarian Revolution? It reflects Simon Bolivar's vision. He defeated the Spanish, liberated half of South America, and put forth and defended the idea of using national wealth responsibly, fairly and equitably.
Bolívar's ideas include a union of Latin American countries, free public education, and enforcing sovereignty to fight against foreign invasion.
Some of Hugo Chavez's Bolivarian ideas include:
• South American economic and political sovereignty and anti-imperialism
• Grassroots political participation of the population via popular votes and referendums he calls participatory democracy
• Economic self-sufficiency
• Instilling in people a national ethic of patriotic service and pride
• Equitable distribution of Venezuela's (and South America's) vast natural resources
• Eliminating corruption at all level of government and society
Chavez reflects Bolivarian principles. He instituted them and made the concept a national quest and because of this Venezuelans won't return to the past when they were controlled by an oligarchy.
Western media paints Chavez as the tyrant, dictator, and suppressor, so why was Hugo Chavez re-elected? Although many of the "talking heads" in Western media indicated that elections were completely rigged, Hugo Chavez has a majority following because Venezuelans get free education into the highest levels, quality healthcare, subsidized food and housing, land reform, indigenous rights, skill training, credit, subsidized and affordable electricity and cooking gas, 7 cents a gallon gasoline, let me say that again, 7 cents a gallon gasoline, a social security system, along with other economic benefits.
America's forced austerity, shrinking middle class, growing poverty, record high unemployment, growing numbers of homeless, and a government aligned to mega corporations in almost every sector and also aligned to the privileged elite, is seen as a failure by many 'left' leaning countries in Latin America.
Venezuela's is not the perfect country by far, there are many major problems. But to most Venezuelans, under Chavez, great progress has been made.
America is the polar opposite. Class war rages. Wealth is redistributed up. Business and super-rich elites benefit at the expense of most others. Social benefits are almost a thing of the past, most up for elimination.
For millions of leftists in South American and Central American (Nicaragua primarily), America is a failed experiment slowly declining under its own top heavy weight. As for Venezuelans, they feel they are governed by politicians that care about them and Chavez is their leader.
Currently on his fourth cancer surgery in 18 months, he is according to some reports, terminal, and literally on his death bed, while other reports have him as "fragile" but stable and making slow progress. It seems that there are many that love him and many that want him gone.
Throughout Chavez's reign, he has been Washington's local thorn in the side. There are claims of multiple attempts to "get rid" of him but all failed, except possibly for this last attempt, as some of the chavista conspiracy theorists would have you believe. Chavez said 'Washington wants him dead' and in fact he is regional enemy # 1.
Maduro, Chavez's VP, and one most likely to take the lead in the event of Chavez's death, is known more for his loyalty to Chavez.
Maduro's Bolivarian credentials are solid with an ideology strongly in the left column, and a history as a former union leader, legislator, National Assembly Speaker, foreign minister, and very open dislike for USA. He's called Chavez's most capable administrator.
At the start of his legacy, in 1998, Chavez was mostly an unknown. Now he is one of the most recognized persons in Latin America if not the world, but there is no doubt that if called on, Maduro and his Bolivarian commitment will carry the chavista torch.
Note: This article does not necessarily reflect the views or the opinions of TCRN
Steven Nash, Guest Writer
The Costa Rica News (TCRN)
San Jose Costa Rica