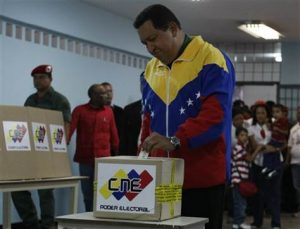 (CNN) — Venezuelan voters hoping for an end to Hugo Chavez's presidency head to the polls Sunday to pick a candidate to compete against him.
The five opposition candidates vying for a spot on the ballot have agreed on one thing: supporting whoever wins the primary.
The unified front could be a key weapon in the political battle leading up to October's presidential election, analysts say.
"The opposition realized that if they are not united, if they divide the vote, they can never beat Chavez," said Federico Welsch, a political science professor at the Simon Bolivar University in Caracas. "After Sunday, President Chavez will have an adversary with a face and a name. … This time it seems like the opposition has a real possibility of winning. It's not a very high probability, but there's a chance."
Chavez's supporters have slammed the opposition coalition, saying there's no doubt the incumbent president will triumph in October.
The candidates' hatred of Chavez is the only thing pulling them together, Rep. Jesus Cepeda said in an interview broadcast on state television last month.
"Hatred is the most detestable human emotion. And when it lodges inside people, it consumes and corrupts them to a point where they can't even think. The opposition is full of resentment," said Cepeda, a lawmaker from Chavez's United Socialist Party of Venezuela.
Beyond a shared goal of unseating Chavez, there are other issues at play in the primary, including what to do about high levels of public spending, widespread security problems and inadequate health care, said Jose Vicente Carrasquero, who is also a political science professor at the Simon Bolivar University.
"Chavez is running for re-election for the fourth time, and these are the same problems that he did not resolve the three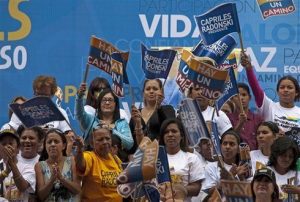 previous times," Carrasquero said.
Chavez has repeatedly hailed the successes of his government, arguing that poverty has declined and social programs have increased.
But opposition candidates argue that significant reforms are needed.
Economist and diplomat Diego Arria and labor leader Pablo Medina have said they will push for a constitutional assembly to overhaul the country's government.
"Popular capitalism" — rather than Chavez's socialist government — is the focus of Rep. Maria Corina Machado's platform.
Miranda state Gov. Henrique Capriles Radonski and Zulia state Gov. Pablo Perez — who have drawn higher support in polls leading up to the election — have proposed programs to fight crime and improve education and infrastructure.
Capriles, the 39-year-old governor from Miranda state, has taken Venezuela's political scene by storm and leads in polls.
Describing himself as a center-left candidate, he has sought to appeal to voters across the political spectrum.
"This is not the hour of the left or the right. This is Venezuela's hour," he said at a recent political rally.
No matter who wins the opposition's primary, Chavez has said he is confident he will defeat them in October's election, but pledged to step aside if he doesn't.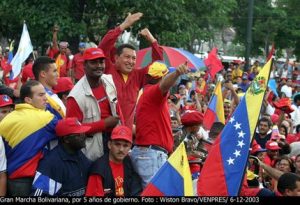 "If I lose the elections on October 7, I would be the first to recognize it and I would hand over the government and I would call on civil servants and the military, from the most moderate to the most radical, to obey the mandate of the people," Chavez said last month.
But some analysts and political rivals have alleged that Chavez and his supporters are already doing everything they can to undermine the opposition.
A youth rally for Chavez's party has also been scheduled for Sunday. Party officials have said it has nothing to do with the primaries, and that no one from the party will interfere with Sunday's vote.
The opposition coalition has said a system of security measures they put in place for primary polls will ensure that they can't.
The system includes plans to destroy voting records as soon as they've been counted and make sure voters' hands are not marked with indelible ink — a system Venezuelan election officials have said prevents people from voting twice, but critics have said could allow Chavez supporters to track and target primary voters.
"The government has indicated that they can know how a person votes. I don't think it's true, but there is fear. The government takes advantage of this fear to threaten people over the consequences for not voting or for voting for the wrong candidate. And there is truth at the root of it," Welsch said.
After a list of voters who signed a petition calling for a referendum to recall Chavez was distributed in 2004, people on the list were denied government jobs, he said.
Opposition leaders will need to fight fears of such repercussions in order to drum up enough support and momentum in the primary election and beyond, said Javier Corrales, a political science professor at Amherst University in Massachusetts who has studied Chavez's government and opposition movements in the South American nation.
"The opposition needs to continue to discourage absenteeism, which can happen because people feel that there might be negative repercussions for voting," Corrales said.
About 2 million people — 11% of Venezuela's registered voters — are expected to vote in the primary, polling firm Kelly and Associates predicts.
Corrales said it remains unclear whether unity after Sunday's vote will be enough to win against Chavez, who has been president for 13 years.
"This is the time when the opposition is at its strongest point politically … (but) it's too early to tell, in part because we don't know the candidate," he said. "Both sides are going to sweat through this. This is going to be a tight race."
By Catherine E. Shoichet
Journalist Osmary Hernandez in Caracas and CNN's Rafael Romo in Atlanta contributed to this report.