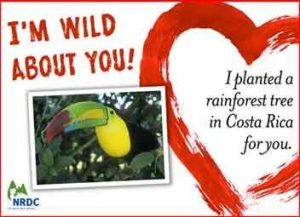 Going green just took a giant leap into Valentine's Day. You can not only promote saving the environment you can tell the one you love you did it for him or her. Although it may not seem like much we can only get these trees planted one at a time and each one really does help.
Who are you wild about? Whoever you choose, this Valentine's Day, plant a tree in his or her name in a rejuvenated rainforest in Costa Rica.
TIP: Get our latest content by joining our newsletter. Don't miss out on news that matter in Costa Rica. Click here.
To help protect Costa Rica's diverse tropical habitat, NRDC and our local partners are replanting a Costa Rican rainforest. Thanks to our planting of 50 different native species, this once-barren pasture will soon again be teeming with rainforest wildlife. Progress can only be made one tree at a time — and one of those can be planted in honor of your Valentine!
If you would like to do this for your significant other go here and invest the $10 in your loved one.
https://www.nrdcgreengifts.org/wildaboutyou

Another option is Pura Vida Bracelets to help put a little Costa Rica into your Valentine's Day. Let her know you care by giving her something that you know she'll love: jewelry. But instead of the expensive kind, give her something with meaning. For example, a company called Pura Vida Bracelets helps provide full time jobs for families in Costa Rica that make the bracelets. The bracelets only cost around $5 and are unique. Plus, she'll think of you everytime she wears it. For more information on the bracelets, visit puravidabracelets.com