I have traveled to many places, but it was not until stepping foot in Costa Rica did I really understand what the difference a single trip can make in our lives. Like many people in the western world, I had my life become about things; about being the person that society would prefer me to be, regardless of what my inner nature felt, I was still concerned with fulfilling the role I thought I had to.

It did not matter that I thought I was doing things differently. It did not matter if even I was committed to living an authentic life, or even a life I love. Because as long as we only view that standard from one focalized viewpoint, then we will not ever truly know what it means to have to find ourselves.
To land in Costa Rica was like coming home to a place that I was told did not exist. Not because life was perfect, but because there is simplicity there that it seems so many of us are searching for in our daily lives. Coming into the San Jose airport, I had a taxi waiting to drive me across the mountains that border the Carara National Park on the way down to the Manuel Antonio area. Immediately, I felt welcomed into a country that was not my own and, on the beautiful drive down to where I had arranged to stay, I was able to see a flock of Scarlet Macaws takes flight over the ocean near Jaco, and the crocodiles near Garabito.
My heart was taken aback -and I had not even spent a full day in this serene and peaceful country. It seemed that once there, in many ways, I forgot about life outside of this place. The hustle of life, the rushing here or there, the being concerned with our material possessions or even our physical appearance all seemed to just not matter as much anymore. There was a quiet. A stillness that permeated the country and that seemed to overcome my soul as well.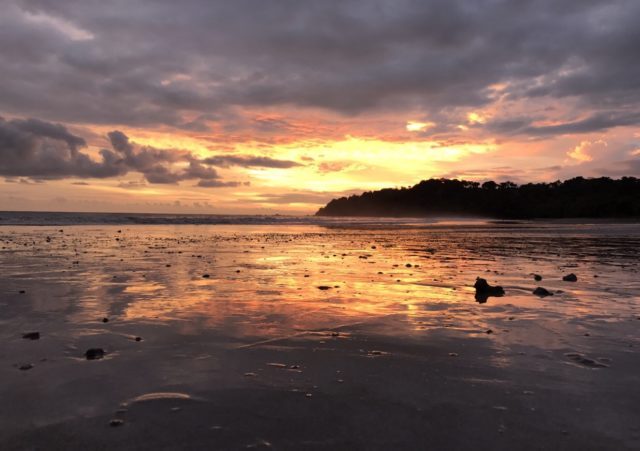 I had planned to stay at a local inn in Manuel Antonio which unfortunately is no longer under the same ownership, but which provided me a haven that I did not know I was in need of. While the wildlife was breathtaking, from the spider monkeys that tried to steal bananas off our places to the howler's that kept us company under the moon, it was simply like I had fallen through the earth and somehow landed in utopia.
But there is something else about Costa Rica and even I would venture to say specifically about the Manuel Antonio area and that is this sense of adventure, of home and of a community as well. During my time there I did participate in some of the more traditional tourism activities like zip lining in the jungle and horseback riding down to a secluded waterfall as the radiant Morpho butterfly danced in the air alongside me. Yet Costa Rica's treasures go far beyond any of these activities because it is found in its people and in the society, they themselves have built.
It is one that had me making friends with strangers and attending service and lunch on a Sunday at Casa del Pan outside of the resort area. It is an environment whose nighttime sounds serenade you into remembering what matters most or maybe even waking you up to it for the very first time. It was here, walking around simple homes, that I first began thinking about a minimalist lifestyle and, ultimately, about whether or not where I was from was actually the place that I was meant to stay.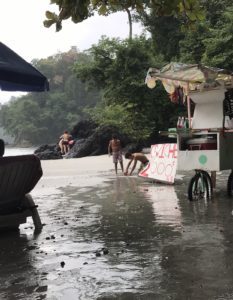 In the quiet moments of Costa Rica, the walking along Playa Espadilla, and its beautiful sunsets or buying ceviche from the local woman on Playa Biesanz, I felt more at home in my thoughts. I realized that while I considered myself free, I still felt pressure to live a certain way, to care about things that just did not truly have importance to me. Because when we truly submerge ourselves into Costa Rica and her beautiful culture, we also allow ourselves to let go of everything that is not truly us. We let go of the pressures to be someone or something, to make others happy or even just to, maybe, be the people we thought we were.
As the week went on, I became more aware of how different I felt there, how much more at peace and truly centered in my essence I was. But it was also the realization of what I would have to do in order to hang onto that as I traveled back into life and all that it entails for the majority of us. Yet it did not matter, because once we do find who we are, once we realized what matters most to us in life then somehow we are able to always take a piece of that with us no matter where we go.
And for that, Costa Rica will always be a home to me.
It was within those jungles that I realized who I really was. I realized what matters most to me and I also learned that, sometimes, we have to completely leave who we were in order to learn who we are meant to be. And nowhere else on Earth was able to be that catalyst other than the magical hills surrounding Manuel Antonio.
Because all it takes is truly just one trip here to change your life forever.
————————————————————————————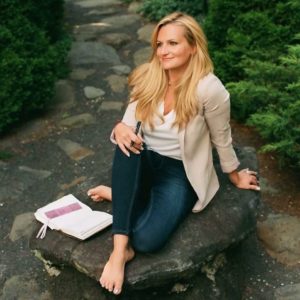 Kate Rose is an artist, free thinker, lover, writer, passionate yogi, teacher, mother, rule breaker, and rebel. She can usually be found walking barefoot in the moonlight between worlds with the dreams of stars still hanging in her hair, swaying her hips to the music of life and smelling of sweet bourbon and honeysuckle. She lives for adventure and wakes each morning with the excitement of a new day waiting to unfold at her feet. She truly believes the best is yet to come and waits, with bated breath, to see what it may hold.
INTERESTED IN PLANT MEDICINE?
Checkout Gnosis; Creating journeys in the Costa Rican jungle in concert with sacred plant medicines. We set out to find a true connection. To ourselves, to each other and to the source.