Answer the call to nature, to knowledge, to Source…
Do you desire to challenge your body, activate your mind, and expand your awareness?
To connect with the cosmic intelligence pulsating in the very fabric of your DNA, in the earth beneath your feet, in the lush green forests, and in the vibrant rays of the sun?
Have you ever reached a moment of pure bliss – the peace of mind that comes when you completely surrender? Perhaps in the moment right before you fall asleep, after a rigorous workout, a long meditation, or during savasana "corpse pose" at the end of a yoga class.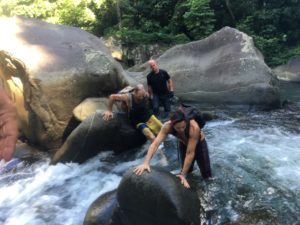 This glimpse of serenity comes when we surrender our identity to the cosmic consciousness of the universe — when we become that trusting, open, surrendered being, full of love, awareness, light, wisdom, truth, and purity. This is our natural state, before our identity and social conditioning step in to protect our sense of individual separate self.
Join us on this visionary quest and surrender to the wisdom of the Costa Rican jungle to open your heart and let go of all that is no longer serving you…until the only thing left is your infinite, pure essence connected to source.
[maxbutton id="2″ url="https://thecostaricanews.com/gnosis-journey/" ]
What is Gnosis Journey: Surrender to the Jungle?
December 4-10, 2017
Space limited to 10 guests
"It is possible to cut beyond ego-consciousness, to tune in on neurological processes which flash by at the speed of light, and to become aware of the enormous treasury of ancient racial knowledge welded into the nucleus of every cell in your body."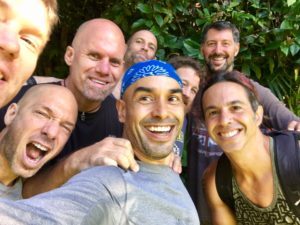 With Gnosis Journey: Surrender to the Jungle, we challenge you to take an act of courage and brilliance, to join in the expanding movement of social and personal liberation. Immerse yourself in nature and integrate ancient wisdom that can help you find a more balanced relationship with the human and nonhuman world around you.
This trek through the jungle with the support of sacred plant medicines will push you to your physical and mental limits and challenge you to step beyond them. If you have found your truth within yourself there is nothing more in this whole existence to find…you learn how to be an infinite, limitless creator connected to pure Source.
Surrender to the Jungle begins with a rebirth in the womb of the Earth at a traditional temazcal sweat lodge, followed by a highly challenging trek through the jungle with the assistance of awareness enhancing peyote (barefoot encouraged), and ending with a sacred plant medicine ceremony. The trek is high risk due to many factors, including natural elements of rain and wind, animals like deadly snakes and spiders, and treacherous slippery boulders and muddy cliffs…this is not for the faint of heart.
We will guide you on a challenging (barefoot encouraged) trek through the lush mountains and waterfalls of the jungle where you will be required to overcome any physical obstacles, to the center of the jungle where you will face your mental and spiritual dragons. Sacred plant medicines used by indigenous tribes in the Amazon have the ability to reveal multitudinous levels of awareness and secret domains of psychic activity. The only thing holding you back from achieving complete transformation and freedom is the limitation of your own mind, and this is a journey to escape from the prison of your mind.
Due to the high-risk nature of Gnosis Journeys, space is limited to 10 guests maximum for safety reasons.
What are sacred plant medicines?
"A psychedelic experience is a journey to new realms of consciousness. The scope and content of the experience is limitless, but its characteristic features are the transcendence of verbal concepts, of space-time dimensions, and of the ego or identity." – Leary et el, "The Psychedelic Experience"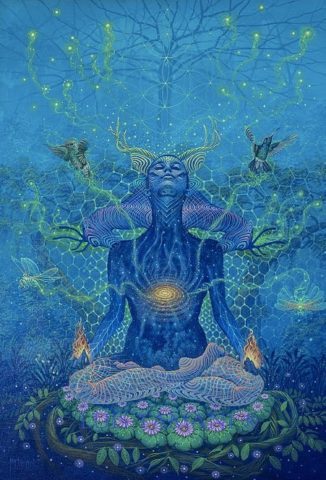 Plant medicines are entheogens derived from plants that offer true healing by putting into order the body, mind and spirit with the past, present and future. Entheogenic literally means "a substance or process that draws one closer to the god within."
Peyote, a medicinal cactus offered on the Gnosis Journey trek, is used by indigenous people for heightened awareness, perception, agility, instincts, and connection to Earth.
Ayahuasca, a psychoactive brew indigenous to the Amazon rainforest, has been shown to stimulate neurogenesis, or the birth of new brain cells, as well as provide physical cleansing, spiritual and emotional healing, and a release of stored traumas and addictions.
This process is unique to one's needs for healing and can involve re-experiencing traumas to work through them, seeing visions, traveling to other dimensions, and meeting other-worldly spirit guides. We offer an ayahuasca ceremony on the night of the Gnosis Journey trek as a way to dive deep within your consciousness and navigate a personal maze to reach your true essence, which is connected to Source and universal intelligence.
What does Gnosis Journey Include?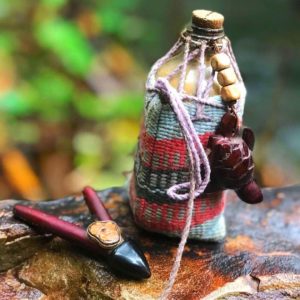 5 nights accommodation in the heart of the Costa Rican jungle
Traditional Temazcal Sweat Lodge
6 hour guided trek through the jungle (fasting during the trek)
Rapé/Romé Potó indigenous medicine for focus, clarity, and alertness
Ayahuasca sacred plant medicine ceremony
Organic, nutrient-dense plant based meals
Vinyasa yoga and meditation
Sound healing with Tibetan Singing Bowls
Blue clay beach day (with Vida Blue Healing Clay from Buenaventura)
Heart opening cacao ceremony with live music as a closing integration circle
Transportation to and from Gnosis Journey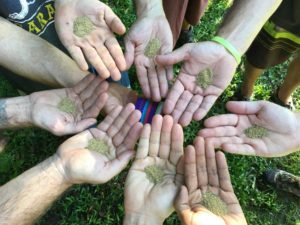 Additional add-ons available on-site
Tribal tattoo by local shamanic tattoo artist
Massage
Acupuncture
Reiki sessions
DMT ceremony
Due to the high-risk nature of Vision Quest, space is limited to 10 guests maximum for safety reasons.
Surrender to the Jungle Schedule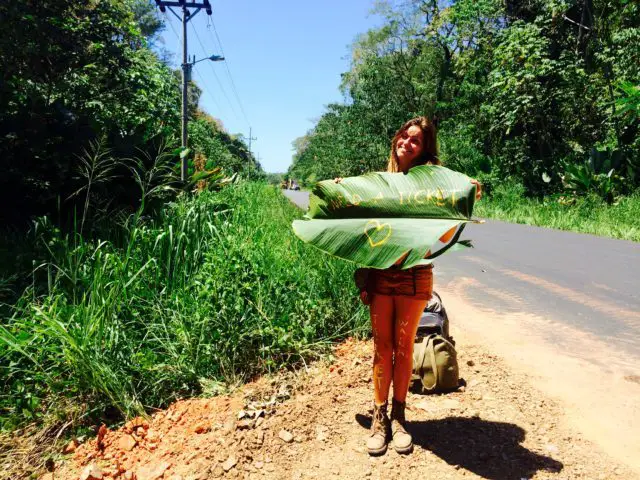 Sunday Dec 3: Arrival in Costa Rica
Suggested arrival at SJO and sleep in SJO
Monday Dec 4: Pre-Journey Rendezvous
9am Group shuttle provided from San Jose to Dominical
12:30pm Lunch in Dominical at Mono Congo or Phat Noodle
1:30pm Beach time in Dominical
5pm Bonfire and sunset at beach
6pm Group shuttle to Gnosis headquarters
7pm Welcome circle
8pm Dinner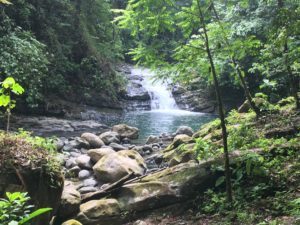 Tuesday Dec 5: Waterfall Day
8am Yoga and sound healing (optional)
9am Breakfast
11am Day hike to Nauyaca waterfall
2pm Lunch
5:30pm Sunset Temazcal Sweat Lodge (begin fasting)
Wednesday Dec 6: Trek and Ceremony
7am Gnosis Jungle Trek (barefoot encouraged) with support of plant medicines to heighten awareness (including rapé)
7pm Ayahuasca Ceremony through the night until sunrise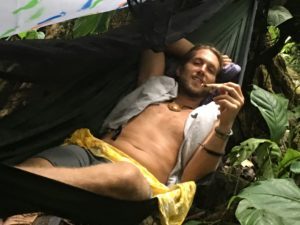 Thursday Dec 7: Integration & Celebrations
7am Integration circle
8am Breakfast (first meal to break the fast)
10am-1pm Massage and bodywork sessions available
1pm Lunch
4pm Yoga (optional)
6pm "Right of passage" celebration with dinner and live music, optional shamanic tattoo by local artist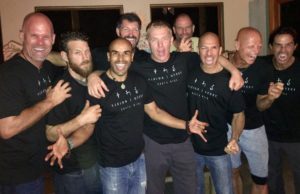 Friday Dec 8: Serenity
8am: Yoga/Pilates/Core (optional)
9am: Breakfast
10am-1pm: Massage and bodywork sessions available
1pm: Lunch
2-4pm Blue Clay Beach Day (optional magic mushrooms)
5pm: Cacao ceremony with live music
8pm: Dinner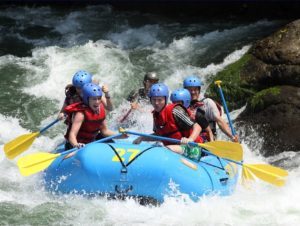 Saturday Dec 9: Bucket List Day
8am Yoga (optional)
9am Breakfast
10am-1pm Choose your "bucket list" adventure (zip lining, rappelling, skydiving, horseback riding, white water rafting…)
1pm Lunch
3pm Closing circle and special giveaway
7pm Dinner
8:30pm Optional DMT session
Sunday Dec 10: Farewell Brunch
9am Farewell Brunch
11am-1pm Departures (group shuttle provided to SJO)
Upcoming Gnosis Journey dates: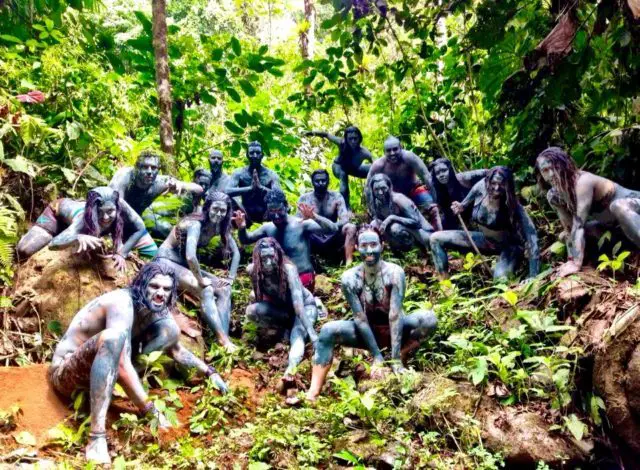 Surrender to the Jungle: December 4-10, 2017 (10 spaces available)
Create Your Reality: January 10-16, 2018 (10 spaces available)
Gnosis: Knowledge of Spiritual Mysteries: February 17-23, 2018 (pre-Envision flagship journey)
Click here to read about our most recent men's Gnosis: A Journey Within.