A sample of one of the endemic giant turtle species of the Ecuadorian archipelago of Galápagos, considered extinct a century ago, was found on an expedition on Fernandina Island, Environment Minister Marcelo Mata announced Tuesday:
"WORLD NEWS | On Fernandina Island – # Galápagos, the expedition led by @parquegalapagos and @SaveGalapagos, located a specimen (adult female) of the turtle species Chelonoidis phantasticus, which was believed to have been extinct for more than 100 years", the official said through his Twitter account
Mata did not offer more details of the turtle finding by personnel from the Galapagos National Park (PNG) and the American NGO "Galapagos Conservancy", which supports the preservation of the enchanted islands in the Ecuadorian Pacific.
The Chelonoidis phantasticus, typical of Fernandina Island, is one of the 15 species of giant tortoises of the Galápagos, of which species of the Chelonoidis spp (Santa Fé Island) and the abigdoni (Pinta) have already disappeared.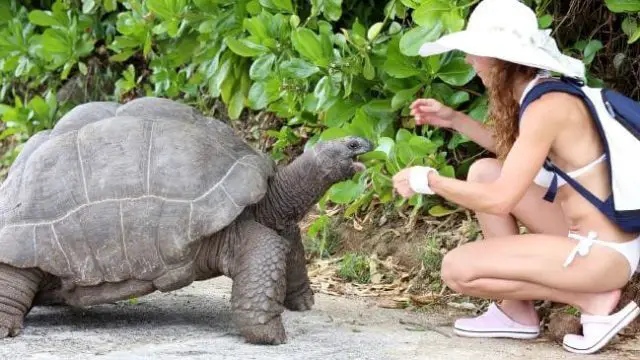 In 2015, Ecuador announced the discovery of a new species of turtle in the archipelago, known for its unique flora and fauna in the world. The variety was called Chelonoidis donfaustoi, in honor of Fausto Llerena, who took care of 'Solitario George', the last of the Chelonoidis abigdoni.
'George', emblem of the insular province located 1,000 kilometers off the coast of Ecuador and named after the giant Galapagos tortoises, died in 2012 after refusing to mate in captivity with females of related subspecies.
However, scientists have found hybrids with genes from that vanished variety, so the Galapagos National Park (PNG) plans to repopulate Pinta Island with non-pure turtles of the species of 'George', who died of "old age" (it is estimated that he was 90 years old). Galapagos is part of the biosphere reserve and served the English naturalist Charles Darwin to develop the theory on the evolution of species.
The giant tortoises arrived 3 or 4 million years ago to the volcanic region of Galapagos. It is believed that marine currents dispersed their specimens around the islands, and that was how 15 different species were created -of which 2 are now formally extinct-, each adapted to their territory. The other place in the world where another species of land giant tortoise survives is on the island Aldabra, in the Indian Ocean.
Galapagos turtles have genetic variants linked to DNA repair, with healing power that allows them to become long-lived, according to the PNG.