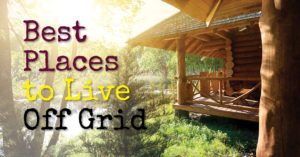 There are many places on earth where you can live off the grid comfortably; the key to finding the right one for you is to know what will make you comfortable. Some countries have bitter cold climates, where others have extremely hot temperatures.
There are so many important things to factor in when purchasing land overseas, such as farming, livestock, water, and food supplies, hunting, and more, here are 5 tips for buying land overseas to live off the grid:
TIP: Get our latest content by joining our newsletter. Don't miss out on news that matter in Costa Rica. Click here.
Use the Process of Elimination to Choose the Perfect Location
Sit down and make a list of all the things you don't want to be associated with your living space. Use this method to weed out all the locations that contain something you listed. The remaining locations will only have positive facets. Some things you might not want at your location are:
An area with a climate that is too hot or too cold
A location without a place to go hunting and fishing
Land that has too many severe storms, including thunderstorms, tornados, hurricanes, sandstorms, and more
A place that is covered in pollution
A spot that is threatened by major earthquakes, or giant sinkholes
A site with excessive crime nearby, such as local crime, terrorist acts, or civil wars.
Somewhere with dangerous flood risks
A dwelling that is too close to a town
A territory that has massive mudslides or avalanches
A shoreline that's too close to the ocean
A property with too many zoning regulations
A space that costs too much for taxes, permits, or other
A region where water is scarce or completely unavailable to you
A zone that doesn't allow you to live off the grid
Use the Internet to Search through Many Available Locations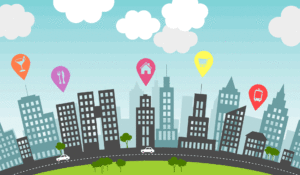 Years ago we would have to go driving around to find a house for sale or for rent or rely on the short ads placed in the local newspaper, but now that we have the internet that chore is obsolete.
We currently have the opportunity to shop for a home online where we can view slideshows of the inside and outside of the property as well as take a virtual tour of the house, which is like walking through the home in person.
Moreover, almost every property site has a search tool with filters that allow you to check off the options you would like to have.
How it works: you make your selections by clicking on a dropdown menu and selecting your preferences then click search. For example, if you are looking for a 4 bedroom, 2 bath home with an attached garage you would check off these options and click search to find listings with these particular features.
You can also add a "from" – "to" price range where you can input the minimum amount you are willing to pay as well as the maximum amount. Other options that may be available are:
Contains a fireplace
Contains ceiling fans
washer & dryer in home
has a front or back yard
Includes a full basement
Near shopping or schools
and other amenities
Don't Get Scammed Visit the land and view the property firsthand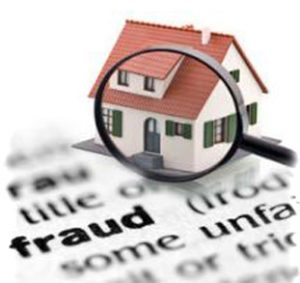 Too many times people will put a down payment on a property that they never even really seen just to find out later they got scammed or nothing is the same as it looked in the photos.
Do you know how many people, at one time thought they owned the Brooklyn Bridge? People have been getting scammed this way for ages and will continue to get scammed if they don't wise up and believe what they see not what they are told as some people will say just about anything to get you to hand over your cash and if you do you might consider it a donation.
Keep in mind that if you get taken for your money while in a foreign land, there is no one to report it to. No, Department of Housing, no, Better Business Bureau, the local congressman, consumer affairs, or district attorney's office. Therefore you have to protect yourself.
Therefore, you should personally pay a visit to the land you are thinking of purchasing so that you can see for yourself what you are buying rather than taking someone else's word for it.
In addition, spend some time at the nearest town where you will be buying supplies, make sure the people are friendly and the town's up keeping is fair. Also, when it gets dark, look up in the sky to see if your view of the stars is disrupted by too much pollution.
Hire an attorney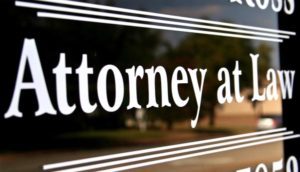 When it comes to buying land in a foreign location, where it's all Greek to you, you will need to find an attorney that specializes in foreign real estate that you could trust who won't charge you an arm and a leg. Attorneys can answer your questions about the land you want to buy and will pass on to you "need to know" information as every country has its own way of doing business such as:
Government approval may be required from the "Ministry of Natural Resources", "Foreign Investments Board", or the "Ministry of Foreign Affairs" for non-locals purchasing land.
In some countries, it is mandatory to register with certain agencies, obtain special permits, or obtain municipal approval to purchase land overseas if the country even allows foreigners to purchase their land.
Each country follows civil or common laws. The differences between the two can impact buying property and ownership of land, condominiums, and houses.
Under common law, you hold a title wherein condominiums you hold a strata title. Common Law is used mostly in English-speaking countries, including the United States, Canada, Belize, Great Britain, and Australia.
In civil law, you hold horizontal property regimes. Once you become the owner of a property you will get EscrituraPublica. Civil law is mainly used in almost every country in Latin America and Europe.
Check the rules and zoning laws
Before you consider buying land in any foreign location you will need to do a lot of research to get answers about many important things that can affect you in the long run if not sooner. Some of the things you will need to know about the property are:
What are the zoning laws in the area?
What permits and special permissions will you need to build at that location?
How much are fees and property taxes?
Is it illegal to live off the grid there?
Are you allowed to disconnect from the city power and water sources?
Can you utilize solar panels for energy?
How far is the nearest town?
Are the people friendly in town?
Can you raise cattle on the property?
What are the conditions for building and repairs?
What you need to know about the application process required to obtain approval from the "Foreign Investment Review Board", which can take around 40 days.
How long it takes to get certain approvals, as some can take 12 months or even a few years.
Find out what you will need to obtain a visa to relocate to the country in question.
Can non-locals purchase more than 5 acres of land?
Conclusion
The following didn't make the list, but are worth mentioning…
Be sure to get every document translated in your language before signing anything.
Other countries may calculate square footage by including both indoor and outdoor spaces, including walkways, balconies, and patios where the U.S. typically measures just the indoor area.
Certain countries may recommend that you get specific vaccinations or other shots before entering their territory.
Relocating overseas to live off the grid can be very exciting and scary at the same time, but if you do your homework, you can leave the scary part out.
About Conrad:
Conrad Novak is a proud father of two children. His journey as a prepper began when Hurricane Katrina hit and he lost his job due to the 2008 economic crisis. That made him realize that everything can change for the worst in a very short time. This experience was the detonator for him to pursue learning and becoming better prepared to face the kind of unexpected disasters that may occur at any point in our lives. You can read more of his content at SurvivorsFortress.com