When the heat suffocates, we think of going to a pool, but why not add extra fun in a place with slides and other attractions that make your trip an unforgettable experience? Costa Rica, in addition to its natural places for tourism, also has waterparks for the whole family, where safety and fun are guaranteed.
With options ranging from quiet pools for children to huge slides that make the adrenaline jump, in Costa Rica the only option that is not there is to stay bored. Let's start discovering these parks and go making the list with the order in which you want to visit them:
Kalambu Hot Springs
 Located in the area of San Carlos, this park combines natural beauties with water attractions for children and adults. It offers a climatized pool with interactive games for children from 6 years old onwards, who will enjoy slides, platforms to jump from different heights and the possibility of making cannonballs.
For adults the offers go from 3 slides, 11 meters high each, called "cyclone", "tornado" and "avalanche", where between serpentine figures and 360-degree turns, fun is guaranteed. And if these were not enough to activate your adrenaline, then you should try to slide down the Mammoth, a slide 12, 5 meters high with a 114 meters tunnel in which you will travel on board a raft to the pool.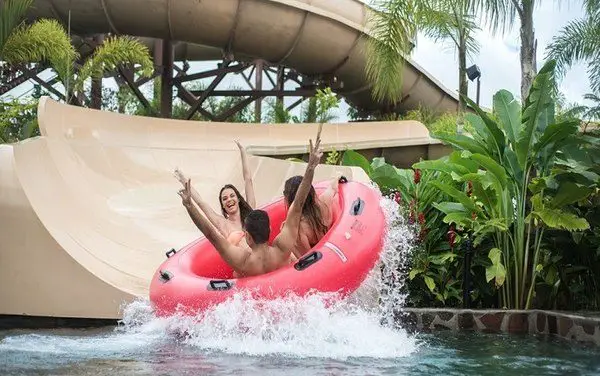 In all the slides children over 6 years of age can also be brought in with accompanied by an adult.  And in each pool, you will have access restaurants where you can snack or even drink cocktails while still inside the pool.
But if you are looking to relax, then your choice will be the thermal water pools. In this park there are 2, one for the whole family and another reserved for adults only, both with an internal bar to enjoy drinks and meals without having to leave the water.
This park opens to the public Friday thru Sunday, and its location is 4 kilometers to the west, on the road to the Arenal Volcano. Only 5 minutes from La Fortuna. It has a parking area near the park.
Villas Fantasía Water Park
 Opened since 2012, and only 45 minutes from the capital, this park offers 3 swimming pools with 2 30-meter high slides. In addition 5 small slides for children. In addition, it also has a soccer field, playing area with jet splashing water fountains, picnic area, green areas, table games for kids also you will find fast food and conventional restaurants.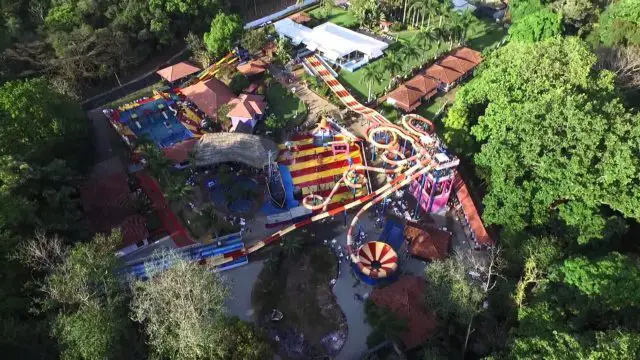 Another advantage is that it takes reservations for private events and has cabins for up to 4 people if you want to stay overnight. It also has private parking and is open to the public Monday thru Sunday.
Cascada de Fuego Water Park
Although they only open on weekends, this place has no room for boredom. The offer ranges from horseback riding, canopy, paintball courts, inflatables, soccer and volleyball courts to bumper cars.
It also has 3 swimming pools with slides and large green areas to camp during the day, read or perform traditional games. They also have a restaurant inside the facilities, to taste typical dishes or fast food. It is located in Patarrá, only 30 minutes from San José.
Los Manantiales Recreational Park
 This park located in Carrillos Alto de Poás in Alajuela offers 2 very different environments for family enjoyment. It has an area with a semi-Olympic pool, with 3 water slides for adults and one for children under 10 years old.  There is a restaurant where you can enjoy an extensive menu.
It also has a forest area with access to a river with a natural swimming pool fed by spring water, hiking trails, camping area, a large colonial house and an old water mill. In this area, there are also picnic huts for barbecues, equipped with basic light and water facilities, surrounded by large green areas and a sports field.
And if what you are looking for is the adventure, you can opt for the 1-kilometer canopy ride.
Thermomania
This park located in the area of Bagaces in Guanacaste has the peculiarity of being made up of hot spring waters from the Miravalles volcano, which flow constantly and which are said to have healing and medicinal properties.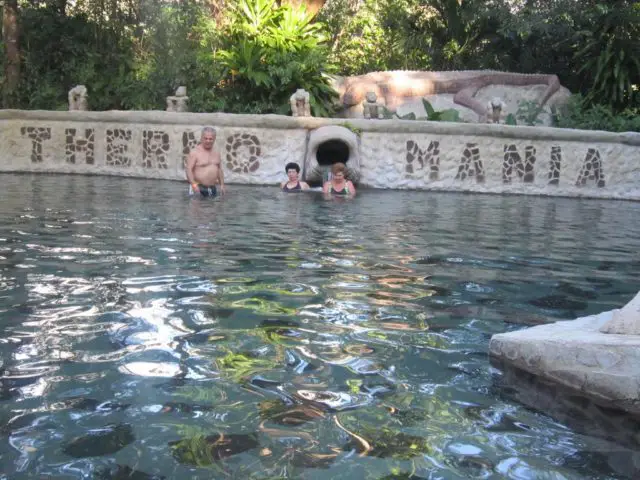 It has 11 pools of different temperatures, ideal for family enjoyment or to get rid of daily stress. It also offers water slides, sauna baths, hot tubs and a wet bar, all under the shade of the trees surround the pools.
Options outside the water range from a children's castle to an animal farm, and even a museum.
Nauyaca Waterfalls
Although this is not a park as such, it is worth including it in this selection, since this waterfall combines fun and tranquility in a natural environment.
It is located in Platanillo de Pérez Zeledón, on the road that goes to San Isidro de El General, in the South Zone of Costa Rica, where locals and tourists come to visit to swim, climb, jump, and watch the beauties of the tropical forest.
As you can see, Costa Rica is the country of adventure. What are you waiting for starting your own?