Agrochemical or agrichemical, a contraction of agricultural chemical, is a generic term for the various chemical products used in agriculture. In most cases, agrichemical refers to the broad range of pesticides, including insecticides, herbicides, fungicides and nematicides. It may also include synthetic fertilizers, hormones and other chemical growth agents, and concentrated stores of raw animal manure.[1][2][3]
In a virtually unanimous vote (8 of 9 Regidores voted in favor), on April 6 the Concejo Municipal of Perez Zeledon voted into law a complete ban on the use of agrochemicals in public spaces including roadsides and water ditches, green areas, municipal soccer fields, etc.  At the hearing attended by over 125 people,  presentations were given by Bolivar Ureñas, President of Aso-Orgánicos an association of agricultural producers that have or are undergoing organic certification, Amy Schrift, Fiscal of Aso-Organicos and Representative of Vida Autentica, a non-profit organization  that provides classes on sustainable, chemical-free growing methods to local pueblos (www.vidaautentica.org) and Fabian Pacheco, President of the National Learning Institute (INA) in Chinchilla, Cartago specializing in organic agriculture.(www.bloqueverde.blogspot.com)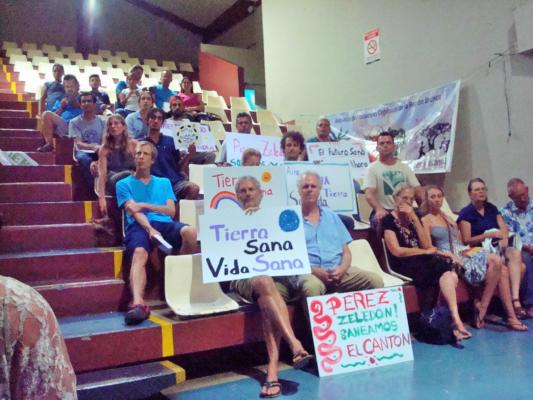 Some of the important points brought up at the hearing were:
Since agrochemicals were first introduced in 1977 and with few restrictions ( Paraquat and 2,4-D, a derivative of Agent Orange have been banned in most parts of the world) Costa Rica has become the world's largest consumer of agrochemicals per capita importing an average of 176 tons per day and applying over 18 kilos of active ingredient per hectare per year, more than 7 times that of the United States.

There is a growing correlation between the high amounts of agrochemical residues in the food supply and the very high rates of gastric stomach cancer in this country, the leading cause of death among Costa Ricans.

Herbicides sprayed along the roadsides and ditches are contaminating gardens and entering homes via dust and the wind and are causing respiratory problems, skin rashes, asthma, migraines, etc. as presented in a number of testimonials.  These chemicals are then washed into and contaminate rivers and creeks, ending up in the ocean.

Every municipality has the ability to regulate as well as ban agrochemical use and other municipalities are encouraged to follow PZ's lead.

Article 50 of Costa Rica's constitution guarantees the right to a healthy and ecologically balanced environment which is being severely threatened by the excessive use of agrochemicals in this country and it's time to take a stand.

The new law will be presented to all other municipalities in the country (81 in total) who will have a chance to vote on it as well.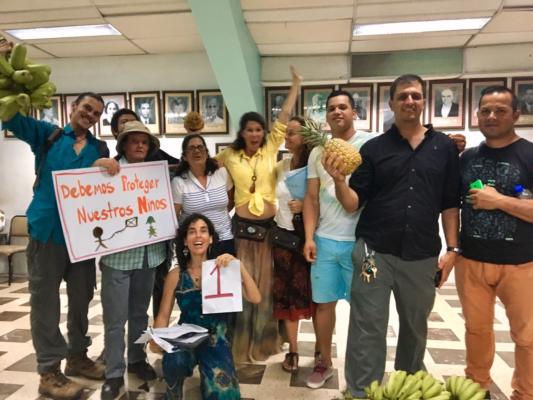 For those who may wish to encourage their Concejo Municpales to enact this legislation in their own municipalities please contact [email protected] for more information.