By Jose Solis, TheCostaRicaNews.com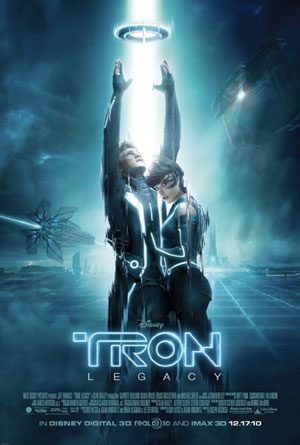 If you bother to make a sequel for a movie that wasn't very good to begin with, you should at least have something more important to say this time around, right?
TIP: Get our latest content by joining our newsletter. Don't miss out on news that matter in Costa Rica. Click here.
This should've been the reason of being behind Tron: Legacy, a sequel to the 1982 cult film that has earned leagues of fans as well as hardboiled dissenters. When the original premiered almost thirty years ago, it was highly praised for its use of computer generated images to create a world that otherwise would've been impossible to render.
However, in the era of The Matrix and The Lord of the Rings trilogy, Tron: Legacy needed to offer something more than just eye candy. Audiences have become so used to CGI that few things fail to ignite their imaginations in the way a good story, interesting characters and, well, some good old fashioned movie fun do. What we get here instead is a muddled tale of a hero trying to earn his rightful role by dealing with his daddy issues. In this case we have Sam Flynn (Garrett Hedlund), the rebel heir to the ENCOM video game empire, who refuses to settle down because he's never gotten over the fact that his father (Jeff Bridges) disappeared more than twenty years before.
Like a modern day, leather-jacket clad, Hamlet, he receives a mysterious page from his father's old arcade. He goes there to investigate the ghostly message and is transported inside "the Grid," a strange world within his father's computer where programs take on humanoid form and spend their time reenacting the Roman circus while listening to heavy electronica by Daft Punk.
Inside this world, Sam realizes his father never really abandoned him, he's just been trapped by his evil clone named Clu (played by a creepy CGI version of a very young Bridges). Of course, Sam realizes he's the only one who can restore things to their normal state, so he builds himself a team in order to escape the virtual world while fixing his Shakespearean papa problems and looking nice in neon accessories.
Directed with no regard for structure by Joseph Kosinski, the film takes on the dubious shape of being a visual treat that's constantly being threatened by its utter lack of depth. There are more biblical and historical references than you can shake a stick at, and while some of the ideas in the film could give path to profound implications, all the story really says is: computers are the new Nazis and they will destroy us…but let's enjoy them while we can.
Bridges' character, who in the original was a yuppie with a hippie spirit, here becomes an obnoxious Zen figure who meditates while communicating in faux philosophical phrases and sighs. Hedlund is nothing more than a vessel to create action figures and sell nice motorcycles. The characters move around the film without the notion that they represent ideas that go directly against the film's discourse.
As the film, irresponsibly, throws around winks at consumerism, corporate greed, creationist theories and Stanley Kubrick references, we are showered with a decadent light show that might be more at home inside Donna Summer's mind, than a popcorn flick. And the images are beautiful indeed but the messy storytelling turns them into silly excuses to cover up a completely senseless plot. The worst part is that the movie pretends to make the audience believe that this is irrelevant.
If such had been the case, why try to create characters and situations that resonate with Western values? Why not just pull off a Walt Disney and create a light and music extravaganza in the vein of his groundbreaking Fantasia? Even better, why not just make the whole thing a new ride at Disneyland?
What we get with Tron: Legacy is perhaps the opposite, the film feels like being trapped inside a Lady Gaga video while listening to Deepak Chopra talk about computers.
—————————————————————-
Movie theaters in San Jose, Costa Rica: Cinemark del Este, Cinemark Escazú, CCM Cinemas San Pedro and Paseo de las Flores, Cinépolis Terramall, Cinépolis Desamparados, NOVA Cinemas