By Ileana Alfaro, TheCostaRicaNews.com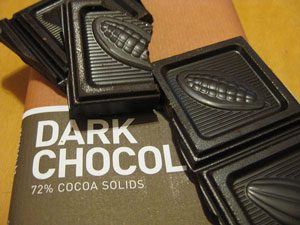 At the University of Miami Miller School of Medicine, a group of researchers found that the consumption of pure chocolate made of 100% cocoa can exacerbate facial acne vulgaris within days in people who are acne prone.
TIP: Get our latest content by joining our newsletter. Don't miss out on news that matter in Costa Rica. Click here.
The study was limited to males because the researchers did not want confounding influences of female hormones, which may affect acne around the menstrual cycle.
Men in this study consumed 6 ounces of 100% Ghirardelli chocolate (dark chocolate), which they washed down with a glass of water. And they maintained their usual diet for 1 week.
The study found a strong correlation between the amount of chocolate that was consumed and the amount of acne lesions that developed.
Individuals also reported headache, nausea, gastrointestinal distress, vomiting, and diarrhea during the study.
"I think these results show that 100% chocolate does exacerbate acne in individuals who are acne prone," Samantha Block, a medical student at the University of Miami Miller School of Medicine told to the media. "We are planning to continue this work."
Theobromines in chocolate may be the cause. More research will be needed to determine the exact mechanism in which chocolate with high concentrations of this substance affects acne.
Theobromine is the primary methylxantine found in products of the cocoa tree. It is known to affect humans similarly to caffeine, but with a ten fold less stimulating effect. Different types of chocolate contain different amounts of this substance. For example, dark chocolate has higher levels than milk chocolate, and higher quality chocolate tends to contain more theobromine.
In the past, many dermatologists said that diet had nothing to do with acne flares. Know we are not so sure about that. All the earlier work that found no link between chocolate consumption and acne was "fuzzy," but everyday evidence would indicate otherwise. Day by day, our patients swear that their acne breakout was due to eating chocolate, so there may be a reason.
Jonette Keri, MD, from the University of Miami Miller School of Medicine, said "this study adds another piece to the puzzle of what causes acne to flare up." Every day science is getting closer to figuring out how diet affects acne. This research solves a piece of that puzzle and it is important to continue forward in search of more pieces.