As of April 20th, 2018 the General Directorate of Migration and Foreign Affairs would initiate the collection of a fine in the amount of US$ 100 per month to foreigners who have their visa or permission to stay in the expired country under penalty of entry ban the country, however, was suspended for 12 months.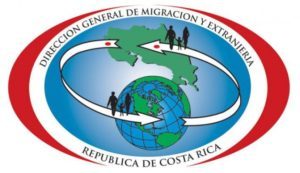 The General Migration Law N° 8764, in force since 2009, established that all foreigners who are not residents of Costa Rica must leave the country once their tourist visa or their authorized period of stay expires.
TIP: Get our latest content by joining our newsletter. Don't miss out on news that matter in Costa Rica. Click here.
For example, for Canadian and American citizens, the tourist visa is valid for 90 days. It is also established in the same law that foreigners who remain in the country in an irregular situation (with the tourist visa expired) have to pay US$ 100 for each month of irregular stay or, otherwise, foreigners are prohibited from entering to Costa Rica for a period equivalent to three times the time that the person remained irregularly in the country.
On December 16th, 2016, a decree (40073-MGP) issued by the General Directorate of Immigration and Foreigners was published in which they postponed the collection of the fine indicated for an additional year. On March 19th of this year the deadline expired and in agreement with the immigration authorities, they would initiate this collection as of April 20th, 2018.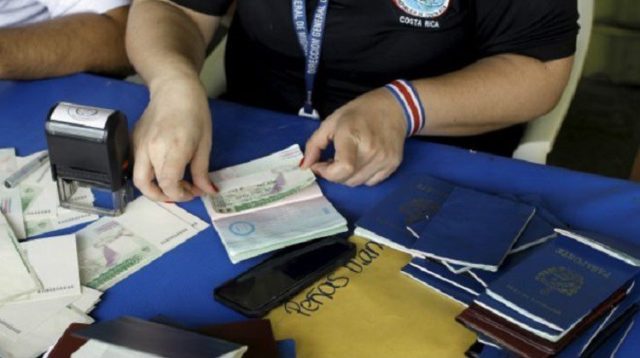 Nonetheless, that same day a new Executive Decree 41033-MGP was published, which extended the collection for additional 12 months until the General Directorate of Immigration and Foreign Affairs carried out:
"The pertinent adjustments at a technological and material level, to enable the collection service at the migratory control posts in the country, to guarantee continuity in the provision of the service at similar times, at land borders, ports and airports, as appropriate, as well as , to determine the capacities of organization, communication and information for an effective execution of the collection of the fine, between the General Directorate of Migration and Foreign Affairs, the Ministry of Finance, and the collecting or collecting entities, since a series of technological and legal technical variables, which should be applied ".
In addition to the aforementioned, this institution considers that it is not fair to collect the fine for residents who have their "cédula" (identity card) expired, for which reason they request that an amendment is made to the Law.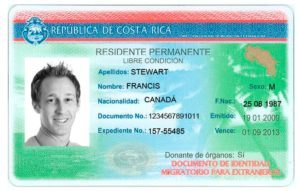 Remember that there are several types of temporary residence, such as:
Residence as an investor. when the foreign person has one or more properties that together have a value of US$ 200,000 or more:
Residence as a rentier. When the foreign person receives a minimum monthly income of US$ 2,500 for a minimum of 2 years, for investments made in Costa Rican or foreign banks.
Residence as a pensioner. When the person receives a monthly pension for a minimum amount of US$ 1,000, which must be for life.
If the foreign person has children born in Costa Rica, you can apply for a permanent residence. Therefore, it is important for foreigners with an irregular situation in their immigration status to catch up or seek immigration support to avoid future legal problems.