For those who choose to retire in Costa Rica, the ability to stay in touch with loved ones, run an Internet-based business or just peruse world news is critical to a happy retirement. In this column I will cover the basics of Costa Rica's communication system, but be aware that this is far from a comprehensive survey of the subject. Telecommunications is a complex topic to begin with and like many things in Costa Rica, it is made more complicated by a cumbersome bureaucracy and rules that may be modified without notice.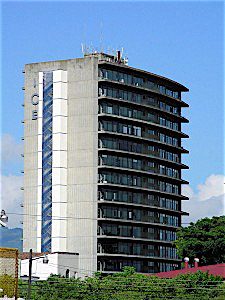 Although Costa Rica is still a developing country with many rough spots in the infrastructure, it is reasonably well advanced in terms of modern communications. I say "reasonably" because much depends on what you require and where you live in the country. Until quite recently when its monopoly was dissolved by CAFTA rules, all telecommunications in Costa Rica were operated and controlled by the venerable electric company, Instituto Costarricense de Electricidad (ICE – pronounced ee-say). ICE continues to provide home phone services that are inexpensive and reliable in most places, plus basic 2G cell phone service and 3G service with an ICE USB modem available for Internet connectivity. But fixed landlines are limited by the availability of phone lines and that can mean a wait of as long as several years for a home telephone in some areas. Of course, if you rent a house or apartment, there likely will already be a landline in place. That service will be in the name of the landlord and will add perhaps $10-$20 to your rental cost, depending on your usage. Outgoing calls to cell phones add a small amount to the basic bill; incoming calls are free. But if you plan to buy land and build a home, be absolutely sure to confirm with ICE prior to your land purchase that utilities are, in fact, available to the location. Never just take the promise of a realtor that lines can be added, for as well meaning as he or she may be, only ICE has the final word.
TIP: Get our latest content by joining our newsletter. Don't miss out on news that matter in Costa Rica. Click here.
ICE's monopoly has included telecom subsidiaries, RASCA and CableTica, which offer additional services. RASCA provides broadband via cable modem and WiMAX, Internet dial-up, WiFi, prepaid Internet cards, and corporate services including Internet via satellite. CableTica offers television connections and cable modem service for Internet access. Another television provider is SKY TV, formerly DirecTV, which broadcasts both Spanish and English-language channels and incidentally, in my experience, has quite good English-speaking tech support.
Like many things in Costa Rica, it is difficult to get a definitive answer as to the availability of broadband before you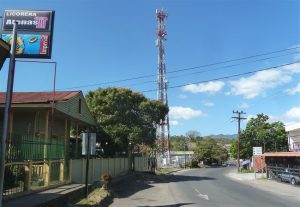 move to a particular location. In our case, because we wanted fast broadband, Layne and I actually took our laptop out to the rental we were considering here in Santa Eulalia, Atenas, to run a speed test. The first result was inadequate for our needs, less than 1 mps download, which would not be fast enough for streaming video or using Skype or Magic Jack to call our families. With a call to ICE, our potential landlord learned that they could upgrade the service but the most they could promise was 2 mps. We had hoped for more but after the upgrade, the system was sufficient for our needs so we went ahead with the rental. So far we've been satisfied with the results. We would certainly encourage others to do that kind of preliminary testing before choosing a place to live if fast Internet service is important to you. Of course, interruptions in service are frequent if not long lasting. Usually a reset (or two) of the modem puts us back online. However, unexpected and unannounced intervals of ICE work on local electrical lines can create more lengthy and bothersome breaks in the Internet connection.
According to the U.S. State Department, Costa Rica's population in 2011 was some 4.5 million people. Of that number about 44% are Internet users. That's an impressive statistic but even more so is the fact that according to BuddeComm, a telecommunications research site, in 2010 there were an estimated 3.6 million mobile telephone subscribers in Costa Rica, some 78% penetration, up 15% from 2009. Cell phones are in everyone's hands – from youth to the elderly – and cell towers are sprouting up around the country like mushrooms after rain. Much of this expansion is a result of the breakup of ICE's monopoly and the entry into the Costa Rican market of Claro, a subsidiary of América Móvil, and Movistar last year. From our backyard we can see no less than four red metal structures stretching skyward and, as a result, we have good service here at our house. On the other hand, a neighbor a few blocks away on the other side of the road has terrible reception most of the time. It's partly the luck of the draw.
In general, cell phones from other countries, including the U.S., do not work in Costa Rica. Although many Ticos and expats sport high-tech smart phones such as iPhones or Androids, most people still use 2G-type cell phones. To obtain a Costa Rican cell phone with a permanent number you must be a legal resident. Many expats, prior to gaining legal residency, manage to get around this requirement by buying a pre-paid phone and having a Tico friend or other legal resident sign up the phone with ICE. Then it's a simple matter of adding a few dollars to the balance each month in order to keep the same number. There are no contracts to sign or other rigmarole, although that may change with the new companies coming in.
Consider this information an introduction only, and if dependable contact with the rest of the world is important to you, then you should continue to research the in's and out's of telecommunications in Costa Rica prior to making a move to retire here.
Kat Sunlove blogs about life as a retiree in Costa Rica at http://FabulistadeCR.blogspot.com.