An Essential Gift, the latest short film of young Costa Rican filmmaker Jose Mario Salas, will be released on Wednesday, September 20that the Warner Bros studios in Los Angeles. The film is one of the requirements of the Master of Arts in Film Production program at New York Film Academy Hollywood Campus, the place where Salas has been studying since one year ago.
The romantic drama short film, setting in 1975, was shot in the cities of Los Angeles and Burbank, California, and it tells the story of Steven, a 70 years old man who travels to the past with his grandson to remember a beautiful story that is going to teach him an important lesson that he will never forget.
"An Essential Gift explores the relationships, it shows the emotional twists and experiences of coexistence that can arise between lovers. On the other hand, it shows the beauty of life, places and the power of healthy relationships ", Salas says.
The short film is part of the requirements to concludes the one-year master of arts program, which Salas was admitted by a scholarship provided by this Academy after he released the feature film "Toque de lo Alto", which was screened in theaters around the country and it was seen by more than 10,000 people in 2016, furthermore it was aired on TV.

The 18 minutes' length short film has some actors from the Screen Actors Guild of America (SAG-AFTRA). Also, the movie was validated, supported, and stamped by this association.
"This low-budget short film has a professional crew; you can see the production values in every scene. Besides, I feel very satisfied to have produced and directed in English, it was also a challenge to me", Salas added.
An interesting fact is that one of Salas's confirmed guests to the premiere is David Armstrong, a well-known Director of Photography, who has shot big productions in Hollywood like the famous Saw movies, others.
 Costa Rica shines in the film.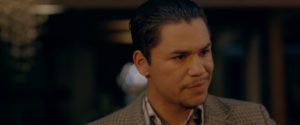 According to the filmmaker, Costa Rica is part of the short film. "I'm very proud to be "tico", and that's why I decided to include my country as a character inside the story, I can't give too many information because I would be telling the whole story, but Costa Rica is part of the film", Salas explained.
According to the Costa Rican Tourism Board (ICT), the United States and Canada are the main countries who export tourists to Costa Rica, so Salas took the opportunity to promote our country.
Around 18 people between actors and crew members worked to shoot Salas's fifth English speaking short film.