Kat Sunlove, TheCostaRicaNews.com.
The closer one gets to making the decision to retire abroad, the more questions arise. What is the weather like? Will I need a car? How friendly are the local people? Is the medical system adequate? How safe is the country? Is it necessary to learn a foreign language? All of these concerns and many others run though your mind as you consider the expat life.
In my last column I addressed a couple of questions submitted by a reader who is considering retirement in Costa Rica. Douglas R. (not his real name) is a 50-year-old man currently residing in Central Texas. One of his top concerns was safety and crime. As I detailed last week, my sense of this picturesque Central American country is of a stable democracy, most parts of which enjoy a low crime rate in comparison to many developed nations or other Central American countries.
But Douglas also had questions of a less serious nature and I will answer some of those this week. Among them were these:
Which areas of the country would you recommend my researching in terms of lower cost, access to medical facilities, and golf! We really enjoy golfing and would prefer to live near golf courses if possible.
Are there jobs (part-time) for older people like me? I'm thinking of just supplementing my income but it's not a necessity.
Ahh, golf! My husband Layne and I also enjoy this humbling pastime, but we have not had the opportunity to play here in Costa Rica so my personal knowledge is limited. In our initial research on retiring in Costa Rica, we learned that there are few courses in the country and many of those are located at exclusive resorts catering to tourists with money to spend. Greens fees ranged above $150 per round, well beyond our retirement budget. Thus, we did not bring our clubs with us when we arrived last spring for our initial three-month stay. Since then, we have learned that discounts are available at some courses for legal residents and through golf-oriented websites, bringing costs down to $30-50 or even less for 9-holes. We have also met some friends here who enjoy the game, so our plan now is to fetch our clubs during our travels to the U.S. this summer and start enjoying the courses next fall.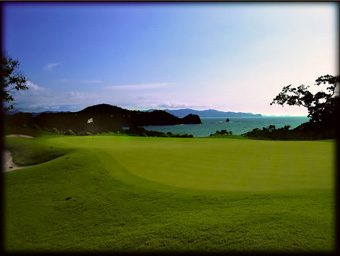 It seems that the golf bug has not bitten Ticos yet, so there has been little pressure from locals for golf developments. The first golf course, in fact, was only built in 1944 at the Costa Rican Country Club located near San Jose. For 25 years, this exclusive 9-hole course was the only one in the country. In the 1970's, the Cariari Country Club was developed just outside of San Jose and included an 18-hole championship course, designed by golf luminary George Fazio and reputed to be one of the best in Central America. It is also now one of the more affordable courses with weekday greens fees of from $60 to $100. Other courses located in the Central Valley include Los Reyes Country Club in La Guacima, Alajuela, and Valle del Sol located in the upscale community of Santa Ana. Most other courses are situated in Guanacaste Province in the northwestern part of the country where many expats have settled, largely because of the drier climate there. Again, many of these are located in pricey beach resorts and cater largely to a tourist clientele. Because of the influx of expats in Guanacaste, we have been led to believe that the overall cost of living is higher there as well. Golf-oriented housing developments are beginning to be built but those homes are premium-priced. A quick Google.com search on "golf courses in Costa Rica" will return a comprehensive list of courses with photos, course descriptions and reviews.
As to the question of a part-time job, the answer is mixed and to be certain, I would advise you to check with a qualified Costa Rican attorney. In general, however, expats are not allowed to take a job that a Tico could do. In most cases, that even means that you cannot work for wages in a company that you create and manage. If employees are needed, you must hire Ticos, although you can benefit from the profits of your business. Foreigners are encouraged through certain government programs to bring in new businesses. Ecotourism operations and eco-businesses such as biofuels, habitat preservation, sustainable agriculture and reforestation are especially promoted. Qualified English-language (TESL) instructors are also in demand here.
On the other hand, if your work can be done exclusively over the Internet and if a Costa Rican company is not paying you, then you can do that job. For example, I am a travel writer and occasionally receive payment for a story published online by a U.S.-based website. However, I receive no pay for writing this column, even though arguably a Tico could not write authoritative articles about "retirement in Costa Rica." Nevertheless, in order not to jeopardize my pending application for legal residency, I do this work strictly as a volunteer. And indeed, volunteer work of all kinds is certainly welcomed in all parts of the country.
So yes, you can work in Costa Rica, with some limitations. You can live in a golf community if that's your preference but that will impact your cost of living. Infrastructure is better, health care more accessible, conveniences closer by in the cities but crime is higher. So much depends on your expectations of life here in a tropical, still developing country. If you are willing to adopt a Tico lifestyle, or settle into a small Tico pueblo as opposed to a large city, you can be relatively safe, have good neighbors and enjoy the tranquilo contentment of Pura Vida!